New Treasures: A Book of Horrors, edited by Stephen Jones
New Treasures: A Book of Horrors, edited by Stephen Jones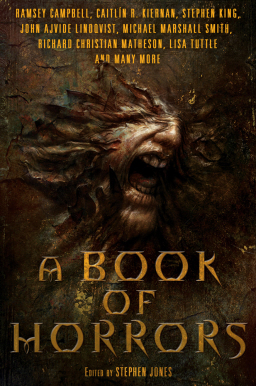 I ran into Stephen Jones when he and his wife Mandy Slater swung by the Black Gate booth at Worldcon last week. I've known Mandy for nearly 30 years, since we were both involved in Ottawa fandom in the early 80s, but Stephen I first met in the early days of running the SF Site. I was an entrepreneur trying to get a website dedicated to science fiction and fantasy off the ground at the dawn of the World Wide Web (1996), and Stephen was a young editor publishing some of the most exciting anthologies in the field, including The Mammoth Book of Best New Horror, Dark Voices, Fantasy Tales, H.P. Lovecraft's Book of Horror, The Mammoth Book of Vampires, and many others.
Fifteen years later, I'm a grumpy small press magazine publisher, and Stephen Jones is still publishing some of the most exciting anthologies in the field. The 23rd volume (23rd!!) of The Mammoth Book of Best New Horror will be released on Oct 23, and this week, A Book of Horrors, one of the most anticipated anthologies of the year, goes on sale here in the US. It includes all-new stories from Stephen King, John Ajvide Lindqvist, Ramsey Campbell, and many others:
Many of us grew up on The Pan Book of Horror Stories and its later incarnations, Dark Voices and Dark Terrors (The Gollancz Book of Horror), which won the World Fantasy Award, the Horror Critics' Guild Award and the British Fantasy Award, but for a decade or more there has been no non-themed anthology of original horror fiction published in the mainstream. Now that horror has returned to the bookshelves, it is time for a regular anthology of brand-new fiction by the best and brightest in the field, both the Big Names and the most talented newcomers.
A Book of Horrors is 429 pages in trade paperback. It is published by St. Martin's Griffin, priced at $15.99 print and $9.99 for the digital edition. You can see more details, including the complete list of contributors, here.
Read all of our recent New Treasures articles here.