It's Halloween Already with Graphic Classic's Halloween Classics
It's Halloween Already with Graphic Classic's Halloween Classics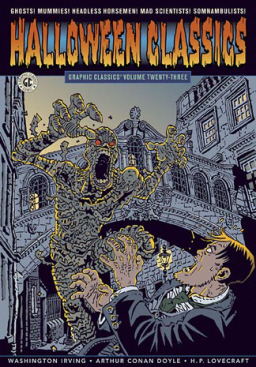 Goth Chick gets all excited as we approach the Halloween season every year, decorating the Black Gate offices in black ribbons and plastic tombstones. If we left it up to her, Halloween decorations would be up between Labor Day and Christmas Eve.
But she's not the only one. Plenty of publishers offer up exciting books around Halloween, and I never really get tired of them. Last week, I received word that Graphic Classics (whom we last wrote about back in July) have released a new comic anthology collecting five scary stories in the tradition of EC Comics, presented by your horrible host Nerwin the Docent:
Eureka Productions is pleased to announce the release of Halloween Classics: Graphic Classics Volume 23, the newest volume in the Graphic Classics series of comics adaptations of great literature.

Halloween Classics presents five scary tales for the holiday, each with an EC Comics-style introduction by famed horror author Mort Castle. Featured are Washington Irving's "The Legend of Sleepy Hollow," Arthur Conan Doyle's mummy tale "Lot No. 249," Mark Twain's "A Curious Dream," and H.P. Lovecraft's "Cool Air." Plus, a comics adaptation of the great silent film, "The Cabinet of Dr. Calligari," illustrated by Matt Howarth, with a terrifying cover by Simon Gane.
Halloween Classics: Graphic Classics Volume 23 is edited by Tom Pomplun, and published September 2012 by Eureka Productions. It is 144 pages in full color oversize paperback, priced at $15.00.
Get more details at the Eureka Productions website.