Get Graphic Classics Volume 23: Halloween Classics for only $10 in October
Get Graphic Classics Volume 23: Halloween Classics for only $10 in October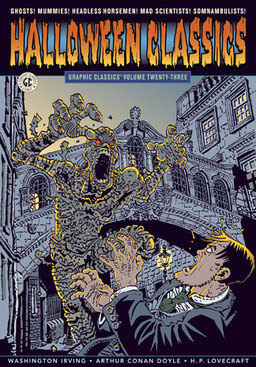 I'm a big fan of Tom Pomplun's Graphic Classics comic anthologies. I've lost track of exactly how many he's published so far, but it's a lot — including volumes showcasing Edgar Allan Poe, Bram Stoker, Arthur Conan Doyle, Jack London, Ambrose Bierce, Mark Twain, R.L. Stevenson, O. Henry, Rafael Sabatini, Oscar Wilde, and my favorite, H.P. Lovecraft.
Each book is 144 pages in graphic novel format, collecting some the best stories from each of the featured authors, illustrated by a stellar line-up of artists. And seriously, that Lovecraft release is the bee's knees.
He's also done a series of special theme volumes, including Western Classics, Fantasy Classics, Gothic Classics, Horror Classics, and Adventure Classics. As an added bonus, the most recent of these (including Science Fiction Classics, Poe's Tales of Mystery, and Native American Classics) are in full color.
Now Graphic Classics Volume 23: Halloween Classics is just $10 for the entire month of October (reduced from $15 ). This volume features an EC-style introduction, by Mort Castle and Kevin Atkinson, and contains Matt Howarth's adaptation of the screenplay of the classic silent film, The Cabinet of Dr. Caligari, alongside adaptations of Washington Irving's "The Legend of Sleepy Hollow" by Ben Avery and Shepherd Hendrix, H.P. Lovecraft's "Cool Air" by Rod Lott and Craig Wilson, Mark Twain's "A Curious Dream'' by Antonella Caputo and Nick Miller, and Arthur Conan Doyle's "Lot No. 249" illustrated by Simon Gane.
We covered Halloween Classics when it was first released last September. Get more details or order a copy on their website and see the complete line-up of fabulous Graphic Classics here.