New Treasures: Black Bottle by Anthony Huso
New Treasures: Black Bottle by Anthony Huso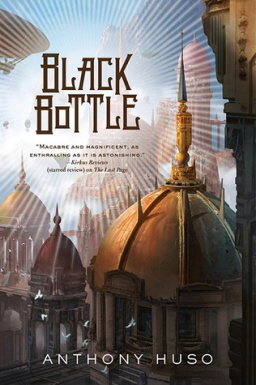 I've been looking forward to Black Bottle ever since I read Matthew David Surridge's review of the first volume in the two-book series, The Last Page (Tor, 2010) in Black Gate 12. Here's what he said, in part:
The Last Page is a high fantasy steampunk novel, and a love story. We follow the sexually charged relationship between the improbably named Caliph Howl, heir to the throne of the northern country of Stonehold, and a witch named Sena. The two of them meet at university, go their own ways, and then come together again after Caliph has become king and Sena has acquired a vastly powerful magical tome. Unfortunately, Caliph is facing a civil war against a national hero, and Sena's book has a lock which can only be opened at a fearsome emotional cost…

The first volume in a two-book series, it manages the trick of both providing a satisfactory conclusion and keeping the story going; in fact, the conclusion suggests the story has taken a turn, and perhaps is going to head in wild new directions. But what really makes the first book work is its language. The prose is strong, quick and dense in the best ways. The diction, the word choice, is inventive; the imagery is both original and concise. At its best, Huso's language recalls Wolfe or Vance…
From the plot summary for Black Bottle, that twist Matthew mentions seems dark indeed:
Tabloids sold in the Duchy of Stonehold claim that the High King, Caliph Howl, has been raised from the dead. His consort, Sena Iilool, both blamed and celebrated for this act, finds that a macabre cult has sprung up around her. As this news spreads, Stonehold — long considered unimportant — comes to the attention of the emperors in the southern countries. They have learned that the seed of Sena's immense power lies in an occult book, and they are eager to claim it for their own.

Desperate to protect his people from the southern threat, Caliph is drawn into a summit of the world's leaders despite the knowledge that it is a trap. As Sena's bizarre actions threaten to unravel the summit, Caliph watches her slip through his fingers into madness. But is it really madness? Sena is playing a dangerous game of strategy and deceit as she attempts to outwit a force that has spent millennia preparing for this day. Caliph is the only connection left to her former life, but it's his blood that Sena needs to see her plans through to their explosive finish.
Sounds intriguing, right? But it was when I saw yesterday's Facebook post from the distinguished Dave Truesdale, Black Gate's Managing Editor for our very first issue, that my interest in the book was truly piqued.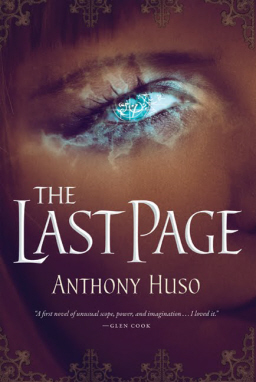 I absolutely loved this book. I bore easily but this one not only kept me turning pages, but I was utterly fascinated with the entire convoluted, enthralling blend of magic, grotesqueries and gods reminiscent of HPL's Old Ones, the epic and at the same time down to earth scope (noir fantasy?), and the beautiful, many times poetic prose. As soon as I can gather my thoughts into some kind of coherency I'll be writing this up for SF Site. This one is a stone-cold winner, the author's second novel, and the second and last book of his diptych begun with The Last Page from 2010. Just wow.
I don't often hear a book described as noir fantasy, or its grotesqueries and gods as "reminiscent of HPL's Old Ones." Strong praise indeed. This one is on my short list.
Black Bottle was released by Tor Books on August 21. It is 445 pages in hardcover and prices at $27.99 in hardcover ($14.99 for the digital version).
Read all of our recent New Treasures posts here.