Lawyer Bob Kohn submits Legal Brief in Comic Format in E-Book Case
Lawyer Bob Kohn submits Legal Brief in Comic Format in E-Book Case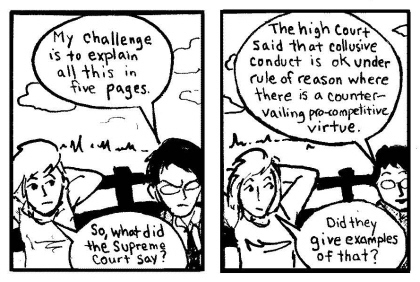 There's been a lot of passionate discussion and conjecture recently surrounding the U.S. Department of Justice's case against Apple and several of the world's largest publishers over alleged price-fixing for e-books. It's a complicated case, with a lot at stake.
So complicated, in fact, that the judge demanded that attorney Bob Kohn re-submit his 25-page legal brief against the DoJ's settlement with three publishers in just five pages. Frustrated by the tight page limit, Kohn made legal history by submitting his brief in the form of a comic strip.
His argument — that the settlement harms the public, and Amazon's aggressive price-setting on e-books is presumed illegal — remains the same in the new brief. But as Publisher's Weekly observed earlier this week:
His rendering is brilliant — not only is it a not so subtle jab at the court for limiting such a complicated case to five page briefs, as a comic strip, the brief will be widely digestible for the general public who may not have the gumption to plow through a typical legal brief.
Brilliant it may have been, but it didn't have the impact Kohn was hoping for, as yesterday the judge approved the DOJ's proposed settlement.
It still makes compelling reading, however. You can read Kohn's inspired comic brief here.