Art of the Genre: Joe Kubert [1926-2012]
Art of the Genre: Joe Kubert [1926-2012]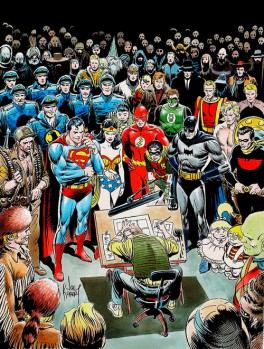 When I think of Joe Kubert, I think of Sgt. Rock, of comic books and of incredible pencils, but first and foremost I think of an inspirational teacher. Most of the time, artists influence the marketplace and world with their art alone, students of their style learning from observing images, but now and again a great artist also becomes a teacher, and for this their lives, and our world, will be forever changed.
So it was for Joe Kurbert, comic icon, and master of his art. Joe's school, and all the 'Kubies,' as his graduates were called, helped define nearly two generations of art since its inception in 1976. Notable names such as Dave Dorman, Tim Truman, and countless others have studied under this master, and because of that, his rank among the all time greats increases tenfold.
Two of his children, sons Adam and Andy, have gone on to follow in their father's footsteps as well, now respected comic artists in their own right.
His art, so inspiring to all fans, had a subtle quality that somehow managed to be both hard and soft. Emotion was etched into each line, and the movement found in his figures always had a realism I found astonishing when reading gritty war stories from his formative, post WWII, years in the industry.
He was another outstanding member of 'The Greatest Generation,' and the principles for which he lived his life, and the kindness and generosity for which he was known, are a shining example to others who I hope will eventually follow in his footsteps.
To this, beyond talented and incredible father, artist, husband, and teacher, I raise a glass. He will be sorely missed, but his legacy, as well as his teachings, will continue. And for that, the world of art will be forever enriched.