Vintage Treasures: The Prince of Morning Bells by Nancy Kress
Vintage Treasures: The Prince of Morning Bells by Nancy Kress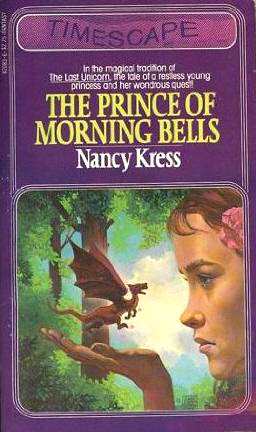 I first discovered Nancy Kress through her brilliant SF short stories, like the Hugo- and Nebula-Award winning  "Beggars in Spain." But she has an impressive fantasy resume as well, including her early novels, The Golden Grove (1984) and The White Pipes (1985) — which we cover here.
The Prince of Morning Bells (1981) was her first novel, and I'm embarrassed to say I'd never heard of it. Until I found a copy in Martin Harry Greenberg's vast paperback collection.
Only yesterday, when marvels and mystery blessed the Universe…

Lovely Princess Kirila rejected royal traditions to seek wisdom and truth at the Tents of Omnium at the Heart of the World. With her protector and savior, the enchanted purple dog, Chessie, she reaches the kingdom of the Quirks — but their rational society cannot help in her hazardous quest. Nor can the people of Ruor, whose mystic religion threatens to enslave her. It is only at the Castle of Reyndak that a handsome young prince succeeds in interrupting her journey…

But years later, Kirila will again take up her quest with faithful Chessie, to reach the fabled tents, and discover the amazing secret at the heart of every woman's world.
You've got to hand it to any book summary that includes the words "enchanted purple dog." That's some serious book blurbing chutzpah right there.
The original Timescape paperback is pretty hard to find (and no, you can't have mine.) But we live in the era of digital books, and if you've got an e-reader, then The Prince of Morning Bells can be all yours for just $5.99 in a revised edition with a new afterword by the author.
The Prince of Morning Bells is 236 pages. It was originally published by Pocket Books, as part of their Timescape line, and released in a revised edition in trade paperback by FoxAcre Press in 2000 (still in print). It is currently available in digital format for the Nook and Kindle.