New Treasures: Rich Horton's The Year's Best Science Fiction & Fantasy 2012
New Treasures: Rich Horton's The Year's Best Science Fiction & Fantasy 2012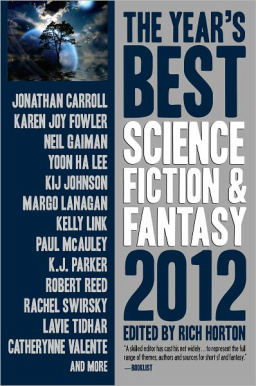 We're deep into Best of the Year anthology season now. Gardner Dozois's The Year's Best Science Fiction: Twenty-Ninth Annual Collection arrived on July 3 (29th volume!), Paula Guran's The Year's Best Dark Fantasy & Horror 2012 on June 19, David G. Hartwell and Kathryn Cramer's Year's Best SF 17 on May 29, and Night Shade Books published Volume 6 of Jonathan Strahan's The Best Science Fiction and Fantasy of the Year (which we covered here) on March 6.
Naturally, my favorite Best of the Year anthology takes the longest to arrive: Rich Horton's The Year's Best Science Fiction & Fantasy 2012. This is fourth volume in this format; prior to 2009 Rich published separate Best of the Year volumes from science fiction and fantasy, from 2006 to 2008. So all told this is his tenth Best volume (eleventh, if you count Unplugged: The Web's Best Sci-Fi & Fantasy in 2008. Which we do.)
The highlight of theses books for me is frequently the introduction, customarily the place where the editors rattle off statistics and lament the imminent death of the short fiction market (traditional since the late 1970s), or even publishing in general.  Rich seems to be growing more self-assured in his intros, and they can be quite entertaining. This from the latest volume:
There are also a few writers appearing here for the first time who have been doing exciting work for several years — I'm a bit late to the party, perhaps, with Lavie Tidhar, certainly, and with Nina Allan… Alan de Niro, Gavin Grant, Chris Lawson, Vylar Kaftan, and Marissa Lingen are all also writers I've had my eye on for a few years. (Speaking of the perils of gender identification, I recall that I publicly listed Lavie Tidhar as a woman and Vylar Kaftan as a man… at least my aggregate totals were correct!)

And I should probably also mention that some of the writers I've already anthologized twice are quite young, or at any rate quite new to publishing, such as C.S.E. Cooney, Genevieve Valentine, and Alexandra Duncan. The field remains in good hands.
This volume includes much of the most highly acclaimed SF and Fantasy short fiction from last year, including "The Last Sophia," by BG website editor C.S.E. Cooney, Catherynne M. Valente's "The Girl Who Ruled Fairyland — For a Little While," Kij Johnson's "The Man Who Bridged the Mist," "Choose Your Own Adventure" by Kat Howard, and many more. There's also a Recommended Reading list, which includes Rosamund's superb tale from Black Gate 15, "Apotheosis."
We covered last year's volume here. The Year's Best Science Fiction & Fantasy 2012 is 575 pages. It is published by Prime Books for $19.99 (trade paperback) or $6.99 (Kindle). Highly recommended.