Vintage Treasures: A Science Fiction Argosy, edited by Damon Knight
Vintage Treasures: A Science Fiction Argosy, edited by Damon Knight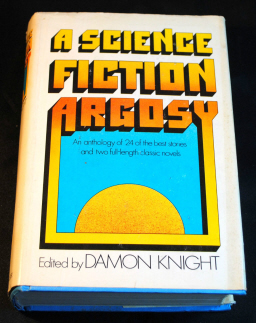 Damon Knight's massive anthology A Science Fiction Argosy was published in 1972, when I was eight years old. It's over 800 pages, packed with 24 novellas and short stories plus two complete novels, Theodore Sturgeon's More Than Human and The Demolished Man by Alfred Bester. It's one of those big, heavy books I'd often glance at on my bookshelf, thinking "I should really read that. As soon as I finish this game of Solitaire."
I know Damon Knight mostly as an editor — of the highly acclaimed Orbit series, and dozens of other SF anthologies — but he was also a novelist and short story writer. Late in his career he wrote some exceedingly weird SF novels. Check out the article I published at SF Site in 1997, Jim Seidman's review of his last novel Humpty Dumpty: An Oval, which centers on a lingerie salesman whose skull is fractured by a stray bullet, and who abruptly finds himself dodging both deadly meteorite storms and the society of dentists that secretly rules the world. Glad Jim read it, as I'm sure he made more sense out of it than I would have.
Damon Knight was also a highly respected critic, famous for his dislike of popular pulp writer A. E. van Vogt ("A pygmy who has learned to operate an overgrown typewriter"), for founding the Science Fiction and Fantasy Writers of America, and co-founding both the Milford Writer's Workshop and the Clarion Writers Workshop. He was a busy guy.
I finally started reading A Science Fiction Argosy this morning (after blowing nearly four decades of dust off it). And you know what? It's pretty good. I was particularly charmed by Knight's introduction, which can be nicely encapsulated with its first and last sentences:
Some few years ago, when I was only teen-aged science fiction addict in Hood River, Oregon, I prowled the stacks of the local library… like a pornographer looking for pornography, I ferreted out science fiction… but I never got enough…

This is the kind of big meaty selection I wish someone had given me when I was a teen-aged science fiction addict in Hood River, Oregon.
That may be the most honest intro I've ever read, and it explains a good deal about what Knight was trying to accomplish with A Science Fiction Argosy — and indeed, perhaps, his entire life as a critic and highly vocal advocate for science fiction. The first story, John Collier's "Green Thoughts," is from 1931, but the anthology quickly leaps forward (skipping nearly the entire pulp era) to 1949 for the second, Isaac Asimov's talky SF puzzler, "The Red Queen's Race." Henry Kuttner and C.L. Moore's "The Cure" is even better, a dark and twisted fantasy of a New York lawyer trying to understand an oddly recurring hallucination of suffocation.
That puts me barely 50 pages in. I'm tempted to stop here and write a review, but Knight the critic would not be impressed. So I'll reserve final judgment until I turn a lot more pages. In the meantime, consider this un-critical word of advice: find your own copy, and don't wait as long as I did to crack it open.