Win a copy of Thunder in the Void from Haffner Press!
Win a copy of Thunder in the Void from Haffner Press!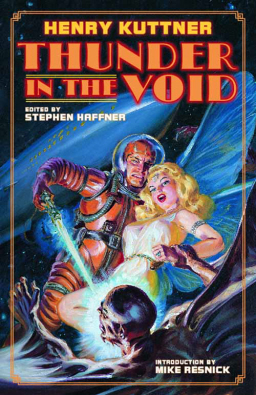 Contests! I love contests. It's because we love to give away stuff, like Santa Claus.
In this case, it's stuff you really, really want: the latest archival quality hardcover from Haffner Press, Thunder in the Void, a massive collection of 16 Space Opera tales by Henry Kuttner. It's scarcely been on sale two weeks, and it's already almost sold out, so act fast.
Thunder in the Void gathers classic pulp fiction from Planet Stories, Weird Tales, Super Science Stories, and even rarer sources, including "War-Gods of the Void," "Raider of the Spaceways," "We Guard the Black Planet," "Crypt-City of the Deathless Ones," and the previously unpublished "The Interplanetary Limited."  Most appear here in book form for the first time.
How do you win? Now pay attention, this is the fun part. You must submit the title of an imaginary Space Opera story. The most compelling pulp title — as selected by a crack team of judges including Howard Andrew Jones, C.S.E. Cooney, and John O'Neill — will receive a free copy of Thunder in the Void in the mail, complements of Haffner Press and Black Gate magazine.
One submission per person, please. Submissions must be received by May 31st, 2012. Winner will be contacted by e-mail, so use a real e-mail address maybe. All submissions must be sent to john@blackgate.com, with the subject line Thunder in the Void, or something obvious like that so I don't randomly delete it.
All entries become the property of New Epoch Press. No purchase necessary. Must be 12 or older. Decisions of the judges (capricious as they may be) are final. Employees of New Epoch Press are ineligible to enter (including the judges — sorry, Howard and C.S.E.) Not valid where prohibited by law. Or anywhere postage for a hefty hardcover is more than, like, 10 bucks. Seriously, this book is heavy and we're on a budget.
Thunder in the Void is 612 pages in high-quality hardcover format, with an introduction by Mike Resnick and a cover price of $40. Cover art is by Norman Saunders. It is available directly from Haffner Press.