Rich Horton Reviews Ashes of Candesce
Rich Horton Reviews Ashes of Candesce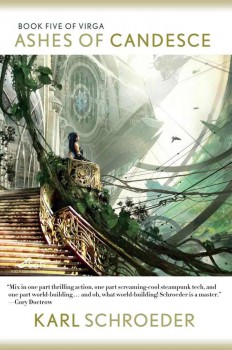 Ashes of Candesce
Karl Schroeder
Tor ($27.99, hc, 432 pages, February 2012)
Reviewed by Rich Horton
Ashes of Candesce is the concluding novel in Karl Schroeder's Virga series, which began with an Analog serial called "Sun of Suns" (first part published in November 2005), and has continued through five novels. The first novel introduced Virga, a huge bubble in the Vega system in which a wide variety of human cultures live in low-tech freefall environments. It concerned young Hayden Griffin, a young man from the nation of Aerie, which has been conquered by another country, Slipstream. Griffin's original mission is simply revenge against Slipstream, but by the end of that book he has learned a lot more about his world. There the series opens out – the initial setting is charming, and could have supported plenty of fine adventure stories, but Schroeder's interests were much broader. In Sun of Suns we learn why Virga is a low tech environment, and in subsequent books we learn a fair amount about the much higher tech available outside Virga, and about that tech's dangers.
The primary thematic thrust of the series is the nature of Artificial Intelligence, and the way humans can live with it, and the dangers of a life too separate from true nature, from true bodies. The conflict at the center is between Artificial Nature – essentially, purely virtual existence (though Schroeder's take on this is more complex than that) and between intelligence that are fundamentally "embodied", and thus responsive to what we might call "Natural Nature". In each of the books we have learned more about Virga and especially about the world outside Virga – and about the importance of Virga and the paradoxically high-tech technology-suppression field that makes its low-tech existence possible.
In each of the books we have also focused on different main characters, including Chaison Fanning and his wife Venera, nominally the villains of the first book; and also the "winter wraith" (and Virga Home Guard member) Antaea Argyre, plus history teacher Leal Maspeth. Ashes of Candesce brings back all those people as major characters, plus a key individual from outside Virga, Keir Chen, who when we first meet him is a child who seems to be growing younger … but whose past life is vitally important to the battle between Virga and Artificial Nature.
Keir Chen is part of a group called Renaissance, one of the apparently few bastions of resistance to Artificial Nature outside Virga. He encounters Leal Maspeth and her expedition in Aethyr, another "bubble" attached to Virga. Leal has a message she needs to deliver to the authorities in Virga – but the representatives of Artificial Nature also have plans. Soon we are back in Virga, and Leal, Keir, and Leal's old friend Antaea Argyre join with Chaison and Venera Fanning to try to put together an alliance among the many nations of Virga. Alas, there is opposition from the scheming Inshiri Ferance, who seems to think that joining with Artificial Nature will allow her to take over the world, as well as Ferance's scheming cousin Jacoby Sarto, whose loyalties are unclear.
These novels have always been a well-mixed combination of thoughtful Sfnal speculation and colorful adventure, and this is no exception. There's plenty of action, particularly in a climactic space battle sequence. And there's a fair amount of intriguing as well. There is also a good bit of fascinating Sfnal description and argument; and at least a bit of ambiguity: after all, one of the results of Virga's tech suppression field is shortened lives and stunted knowledge.
Ashes of Candesce comes to a satisfying and believable conclusion, and it's a good capstone for one of the best Science Fiction series of recent years. That said, as a standalone novel it has its shortcomings. The main issue is that the need to resolve everything leads to a certain episodicity; and, more seriously, to a bit of shortchanging of character development. We get to spend a bit of time with numerous characters, most familiar from previous books in the series, but no characters really get time to be fully realized, not even Keir Chen, probably the most important character in this particular book. For instance, he and Leal Maspeth are portrayed as having a growing relationship – but no real feeling for this comes through. It may be that this is hard to avoid in a capstone book like this – similarly, a certain sense of rushing through things may be inevitable. At any rate, the Virga series as a whole is a excellent stuff, and this is a successful conclusion.
__________
Rich Horton is an Associate Technical Fellow in Software for a major aerospace company in St. Louis, MO. He writes a regular column and book reviews for Black Gate, as well as a monthly column on short fiction for Locus and reviews for many other publications. He also edits an annual anthology, The Year's Best Science Fiction and Fantasy, for Prime Books. He maintains a website at www.sff.net/people/richard.horton, and can also be found on Live Journal.