The Primacy of History
The Primacy of History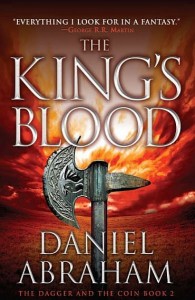 Daniel Abraham attacks the idea of historical authenticity in fantasy:
The idea that the race, gender, or sexual roles of a given work of secondary world, quasi-medieval fantasy were dictated by history doesn't work on any level. First, history has an almost unimaginably rich set of examples to pull from. Second, there are a wide variety of secondary world faux-medieval fantasies that don't reach for historical accuracy and which would be served poorly by the attempt. And third, even in the works where the standard is applied, it's only applied to specific, cherry-picked facets of the fantasy culture and the real world.
This is a fascinating assertion. We need less authenticity in fantasy? Let's begin by looking at Abraham's three initial assertions. First, history does not have "an almost unimaginably rich set of examples to pull from". In fact, those of us who study history either professionally or on an armchair basis tend to be impressed by the way in which the historical patterns tend to repeat themselves. For example, the economic notions of the Mongol ruler Gaikhatu Khan, whose issuance of paper currency in 1294 promised reduced poverty, lower prices, and income equality, eerily prefigured both the General Theory of John Maynard Keynes as well as most of the Federal Reserve statements since 2008. Granted, neither Bernanke nor Geithner met with the unfortunate fate of the Khan's chief financial officer, but as they say, history rhymes rather than repeats.

The examples are significantly limited. For example, there was no medieval period outside of Europe. Forget jousting with laser lances, it's blatantly ahistorical to even populate a medievalesque world with a predominantly non-Caucasian people. As for the ubiquitous strong, independent, proto-feminist, it is as absurd for her to ride around on a horse swinging a sword as it would be to have her spending the course of the novel waving signs, brandishing coathangers, and demonstrating on behalf of abortion-on-demand and suffrage in front of the king's castle. Actually, it would arguably be much more credible, since there is more chance that a medieval woman would be literate, promiscuous, and cognizant of Cicero's theory of government than she would survive five minutes of armored combat.
Abraham's second point can't be addressed unless he provides us with some examples. Perhaps they would be served poorly by more authenticity. Or perhaps they would be improved. We can't possibly say, given our ignorance of what secondary world faux-medieval fantasies he has in mind. And while it's true that there is a certain amount of cherry-picking that takes place with regards to the fantasy culture, it's much more limited than Abraham appears to suggest here, since most authors are far too lazy to bother creating any new cultures and instead simply change the name of historical medieval societies while pretending that the Papacy and Christendom never existed.
Now, Abraham is right to point out that the authenticity of George RR Martin, Joe Abercrombie, R. Scott Bakker, and others is extremely questionable. And he is absolutely right to note that they ignore "the central cultural fact of the time", which is the "the importance of God and the church in medieval Europe". But this is an indication that more authenticity is needed rather than less, particularly psychological and relationship authenticity. For example, what was, and still is, the most common form of sex in the world? Marital sex between a man and a woman. And yet, this is about the only form of sex that we never see in fantasy fiction. The average man in fantasy fiction is much more likely to have sex with his dead male unicorn than with his wife, even if he is married. And before I am accused of equimythohomonecrophobia by those who enjoy committed, loving relationships with their deceased gay unicorns, I am merely pointing out that the practice was not as widespread during the Middle Ages as prosaic marital relations.
I simply don't see how Abraham has made any sort of case for how lasers, universal suffrage, and breast implant surgeries will improve fantasy fiction. But, I have to confess, I think it would be extraordinarily amusing to see him try and make it. If nothing else, addressing the latter could go a long way towards explaining those inexplicably pneumatic women on the book covers.