Revisiting The Chronicles of Amber
Revisiting The Chronicles of Amber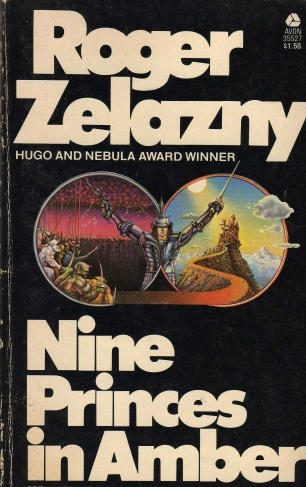 In my never-ending quest to bring heroic fiction and sword-and-sorcery to a wider audience, I have been writing essays for National Public Radio. Last May they carried an article I drafted about three books reprinting pulp (and slick)  magazine treasures.
Today, as part of their Guilty Pleasures series, I waxed on about one of my very favorite series, Roger Zelazny's Chronicles of Amber. I can't say as I feel especially guilty about loving the first Amber series, although I do always have to mention a few caveats when I recommend it. For instance, I usually emphasize that I didn't care nearly as much for the later sequel volumes.
I discovered Zelazny's Amber at about the same time I read Fritz Leiber's Swords Against Death and a whole slew of Michael Moorcock novels. As a young teenager, those stories effectively blew my mind. I can honestly say that there's no fantasy series that had as great an impact upon me. Even today, some twenty years after my last reading, I can still quote portions extensively. If you're a fan of heroic fiction and sword-and-sorcery, you really owe it to yourself to give it a try
If you want to know more about Amber, check out the article, and if you're wanting to see more coverage of genre work at NPR I hope you'll Like, Tweet, Recommend, or whatever else the page.