New Treasures: Strange Worlds
New Treasures: Strange Worlds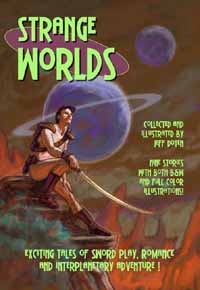 Back on October 7th I reported on a promising little artifact called Strange Worlds,  an anthology of sword and planet stories from Space Puppet Press, collected and edited by Jeff Doten.
Now I'm holding a copy in my hot little hands, and I can report that it's just as cool as it looks.
Strange Worlds collects nine pieces of original fiction from Ken St. Andre, Charles A. Gramlich, Paul R. McNamee, Lisa V. Tomecek, Charles R. Rutledge, and others.
Each story is also illustrated by Doten with a full color plate, done in loving homage to the Ace Doubles of the 50s and 60s, where much of the most-loved sword & planet in the genre first appeared.
Doten also provides some fine black & white interior illustrations for each story.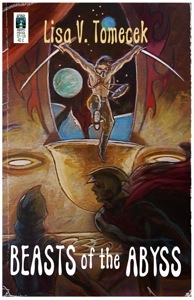 It's a quality package, and no mistake. There's even a 13-page full-color "Strange Worlds" comic, written and illustrated by Doten, rounding out the book.
It's very clear to me that Doten knows his stuff, and his love and knowledge of the genre comes across on every page. There's even a three-page Suggested Reading list, an invaluable reference for modern fans covering virtually every major practitioner of the genre — from Edgar Rice Burroughs, Otis Adelbert Kline, Gardner Fox, Leigh Brackett, and Lin Carter, all the way up to more modern writers experimenting in the same playground, such as S.M. Stirling.
In his introduction Doten says Strange Worlds was "my effort to rectify the tragic lack of Sword and Planet stories in the modern world." He has succeeded with flying colors.
Strange Worlds is 189 pages printed on quality stock in oversize format. It is available from Space Puppet Press for $27 plus $3.75 U.S. shipping, and richly deserves your support.
Order today from strangeworldsanthology.com.