Take a Journey to Strange Worlds
Take a Journey to Strange Worlds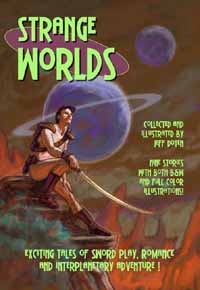 Strange Worlds, a new anthology of Sword & Planet stories edited and illustrated by Jeff Doten, is now available. And it sure looks like an attractive package.
Containing all original fiction from Charles A. Gramlich, Ken St. Andre, Paul R. McNamee, Charles R. Rutledge, and others, Strange Worlds is fully illustrated with both full-color and black & white art accompanying each tale. Here's the copy from the back cover:
New worlds and new adventures.

A sword and blaster at your side, the wind in your hair and the ringed moons rising overhead…

Sword and Planet is where it all started, the original space adventures on exotic and perilous worlds. Strange Worlds is the first collection of ALL NEW Sword and Planet adventures in a very long time. Eight stories and one comic, each story with both black and full color illustrations. This is space adventure at it's (sic) rawest down in the dirt form, so strap on your gear and let's get going.
Other than the obvious typo, it sounds good to me. According to contributor Paul R. McNamee, editor Doten provided nine color plates and commissioned nine authors to craft a sword-&-planet tale using one of them as inspiration. Doten also added some black & white interiors based on the resulting stories.
Strange Worlds is available from Space Puppet Press for $27 plus $3.75 U.S. shipping. Order today from strangeworldsanthology.com.