Goth Chick News: Just in Time for Holiday Gift-Giving: Frankenhooker
Goth Chick News: Just in Time for Holiday Gift-Giving: Frankenhooker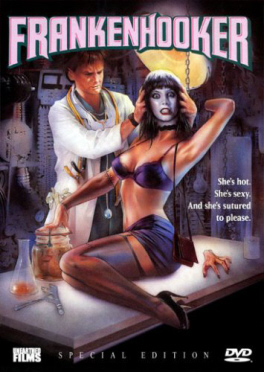 Over the long weekend I received an anonymous email entitled "Goth Chick Fodder" which at once triggered several different responses in my tryptophan-addled mind.
First, I was wary.  I mean, there was a real chance this could be some sort of nasty virus reminiscent of what the character of Dennis Nedry did to Jurassic Park in the first movie, and undoubtedly visited upon me by some Fundamentalist Christian group (Goth Chicks are in constant peril of this sort of thing for some reason).
Then I became skeptical. It could just as easily be an advertisement from a purveyor of medieval restraint devices and clothing made from petroleum products; which happens so frequently it's gone from being interesting to boring and is now swinging back to mildly interesting again.  After all, who doesn't like a good, sturdy set of wooden stocks and a rubber corset?
Finally, curiosity got the best of me and being woozy from a carb-overdose, I threw caution to the wind and opened the email, crossing my fingers that the contents would be simply what they said they were: something interesting to tell you about.
I'm still not sure how to qualify what I found but here it is; you decide.
It was a major media announcement.
Frankenhooker Now Available on Blu-ray!
Wait.  What?
Franken – hooker?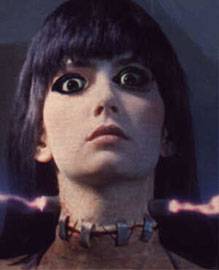 Yes folks, we're both reading that right.  Frankenhooker; which in my lexicon means a pay-to-play Frankenstein.
Turns out, that almost precisely what this movie is about.
Someone really made a movie on this topic and someone else actually put up the money to clean up the original 1990 footage and re-release it on Blu-ray, with "extras" believe it or not.
At this point, if there are some of you out there who are familiar with this masterpiece, all I can say is why haven't you sent word?
For the rest of us, to whom this is breaking news of enormous artistic magnitude, here's what I learned.
Veteran writer/director and grindhouse horror guru Frank Henenlotter is the father of Frankenhooker.  He's also the genius behind the sleazy splatter fest Basket Case (1981),  the twisted tale of two Siamese twins who exact a harsh revenge on the doctors who surgically separated them and which over the next five years moved Henenlotter into midnight-movie cult status.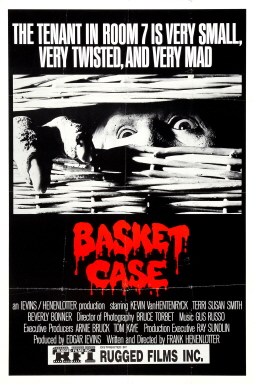 From there he easily obtained funding for his follow-up gem Brain Damage (1987). Another grotesquely original and imaginative winner, it offers a provocative allegory on drug addiction, following the supremely icky story of a young man who becomes an unwitting host for a lethal parasite that feeds on human brains.
Henenlotter had hit his stride and was nearing the height of his vision when three years later he gave the world the sum of his creative mastermind in the form of Frankenhooker; after which he took an 18 year hiatus from film presumably to weave baskets in a calming environment.
The story line, when you think about it, is actually very fascinating in a watching-Celine-Dion-go-over-a-cliff-in-your-new-Mustang-while-singing-My-Heart-Will-Go-On kind of way.
Following the tragic death of his fiancée Elizabeth who expires in a freak lawnmower accident, Jeffery Franken dreams up a plan to bring his body-conscious bride back to life. He will create a new body for her by sewing together the best and thinnest parts from various prostitutes.
After reanimating the now sexy Elizabeth, Jeffery gets more than he bargained for when she takes on the persona of the prostitutes whose parts now make up her body and goes on a rampage through the streets of New York searching for johns who are looking for a date, then bringing high-voltage death to her customers.
Part of Frankenhooker's "charm" is that the film never takes itself seriously (thank goodness).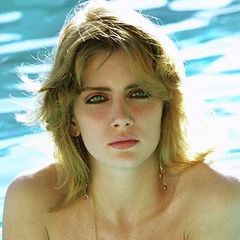 Unlike in his two previous films which relied heavily on gore and violence, Frank Henenlotter unleashes the humor and satire this time around; the extreme level of absurdity actually works.
He also made some interesting, if rather off beat casting choices which pay off in spite of themselves.
Elizabeth is played by Patty Mullen, 1987's Penthouse Pet of the Year, who had only three prior acting credits.  Though she displays some truly impressive comic talent (her facial expressions are hilarious), Patty retired from both film and print following Frankenhooker.
Jennifer Delora plays call girl Angel who is better known for being the first deaf beauty queen to compete in the Miss American pageant, then lose her title when it was discovered she appeared nude in another cinema classic Bad Girls Dormitory.
Jeffery Franken is played by James Lorinz who at the time was just getting started in the business, but who went on to a fairly respectable television career in NYPD Blue, The Practice and Judging Amy before finally dropping out of acting altogether in 2003.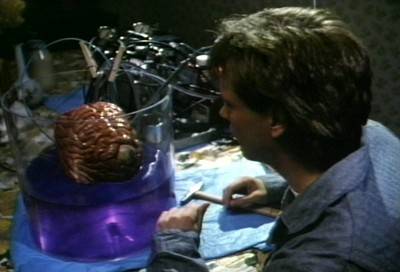 For the Blu-ray edition of Frankenhooker "Synapse Films created a brand new 2K high definition transfer from original vault elements" (according to the press release) so it seems that what we're talking about here is high quality grind house.
Frankenhooker was originally released on DVD in 2006 by Unearthed Films and all of the extras pertaining to the film have been carried over to the Blu-ray release.
Extras include a theatrical trailer for the film, interviews with Patty Mullen, Jennifer Delora and special effects advisor Gabe Bartalos along with an image gallery titled `Jennifer Delora's Frankenhooker photo scrapbook' and a audio commentary with director Frank Henenlotter and Gabe Bartalos.
You might imagine that watching the movie would be enough without going back for extras, but as I said: there's something disturbingly addictive about what should be an utter train wreck but somehow isn't.
By the way, the special effects in Frankehooker are surprisingly impressive ,which is understandable once you have a look at Gabe Bartalos' resume.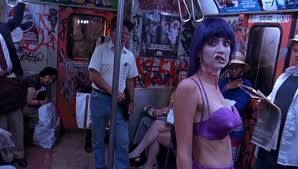 Though I can't believe I actually wrote this, there you have it.  Frankenhooker.  Just in time for stocking stuffing or for that hard-to-buy-for person on your gift list.
And thanks to my anonymous emailer.  Looks like it truly was Goth Chick fodder.
Are you a Frank Henenlotter fan or have you actually seen this movie?  Post a comment or drop a line to Sue@blackgate.com.