THE ART OF RICHARD ANDERSON: Princes, Kings, and Sorcerers
THE ART OF RICHARD ANDERSON: Princes, Kings, and Sorcerers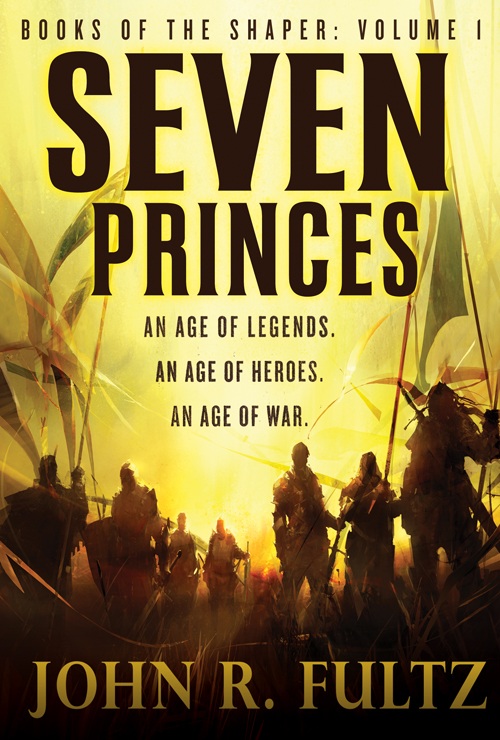 Rich Anderson grew up in Montana, moved to Seattle in 2000, and went on to revolutionize the field of fantasy art by incorporating classic concepts with digital virtuosity. He's been an illustrator for Wizards of the Coast, Guild Wars, Tor, Random House, and this year Orbit Books tapped him to do the cover for SEVEN PRINCES.
Praise for the book's striking cover has been both loud and frequent. Rich's "golden sunset" silhouette approach provides an iconic image that is perfect for the novel. I've also seen his advance sketch for the cover to SEVEN KINGS–it's going to be another masterful vision. He will also be doing the cover for SEVEN SORCERERS, the Third Book of the Shaper.
Rich's art is turning heads everywhere, so I thought I'd probe the mind of the Artist Himself in a brief yet enlightening interview. More of his work can be found at his web site and blog: http://www.flaptrapsart.com/
JRF: Who are your biggest artistic influences?
RA: I would have to say John Singer Sergent. Love the way you can almost see his decision-making in his paintings. Frank Frazetta is another one of course, so much style and knowledge. There really is so many.  I find so many people around me inspiring me probably the most [and] I've been very lucky to work with some amazingly talented people.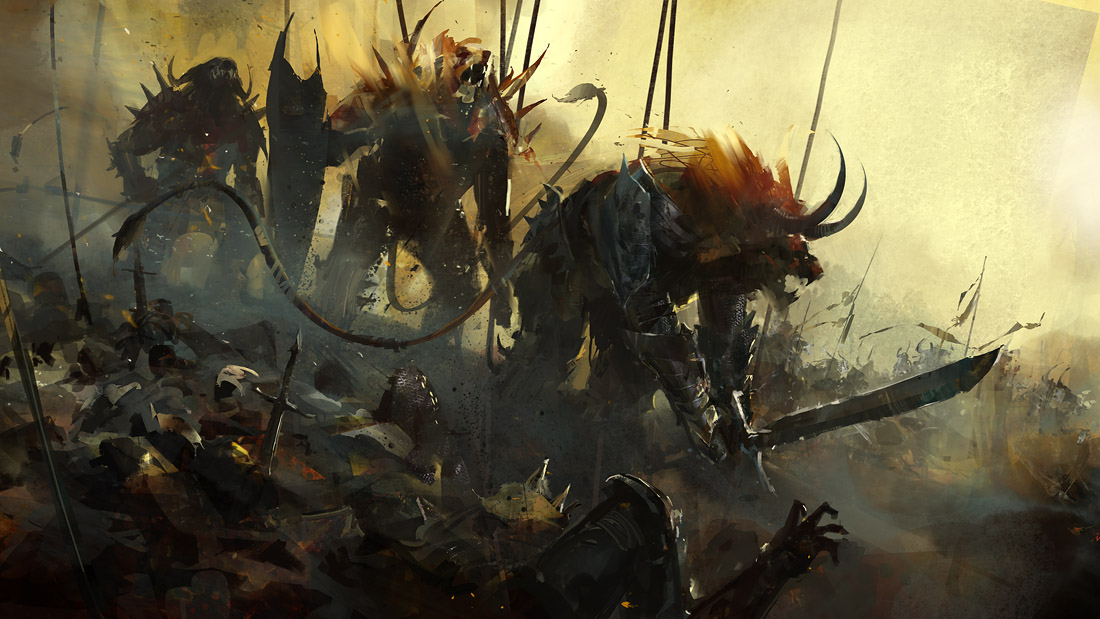 JRF: What is your typical day like? How often do you create pieces of art?
RA: I recently worked at The Moving Picture Company in London, doing concept work for visual effects and film work. In the beginning of January I'll be starting at Framestore, working on pre-production concepts for film. Concept work is a lot different than my illustration work. It's a lot more functional. My illustration work, like your cover, is where I get to play a lot more and just get into the "art mode" if you know what I mean. I love it.
JRF: Your art is such a terrific blend of classic fantasy imagery and modern digital style. How in the world do you achieve this unique and eye-popping blend of techniques? (Do you do part of the work by hand, or is every step done on the computer?)
RA: Ha! Thanks. Yeah, everything is drawn right in Photoshop. I love playing with textures and blending things and trying to get stuff closer to what I love seeing in traditional pieces.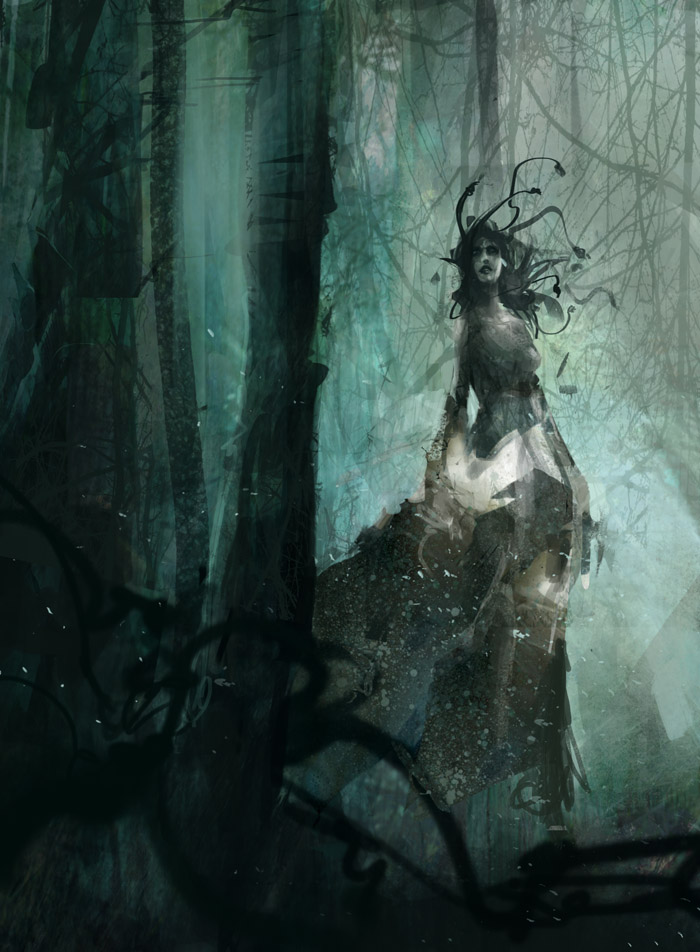 JRF: What has been the highlight of your career so far?
RA: Doing the cover for SEVEN PRINCES, of course! I always feel very lucky to be contacted for illustration work. It's a highlight every time. Obviously, some things are better than others, but it was a big deal to me when I became a full time concept artist for Arena Net working on Guild Wars, and after that moving to London to work on film was a big dream come true.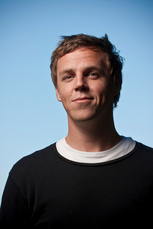 JRF: What are your favorite fantasy films, books, etc? Does any particular medium inspire you more than others?
RA: My favorite story for sure is A Song of Ice and Fire. I've listened to the audio books for years now while I work. I love working that way. And I was super excited [about] HBO making [Game of Thrones] into a show. That would be a highlight if sometime I got to work on that show, or do some sort of art for it 🙂
JRF: What was it like working with Orbit for the cover of SEVEN PRINCES, and how will you be approaching the cover of its sequel SEVEN KINGS? Trying anything different this time around?
RA: Orbit is wonderful to work with, and Lauren is probably one of the best art directors I have ever worked with–very knowledgeable and easy to understand. On SEVEN KINGS I'm approaching it a bit different by just knowing right away that it's a bit darker feel, a little more evil or something…and you should feel a bit of power from it at first glance. It's a fun one for sure! And all your notes on it, John, really help a lot. [Thanks! –JRF]
JRF: What's the most important consideration when doing a single piece of art, such as a book cover?
RA: In my head it is to just make it look cool. If I feel like it looks good, then I start to think of everything else… 🙂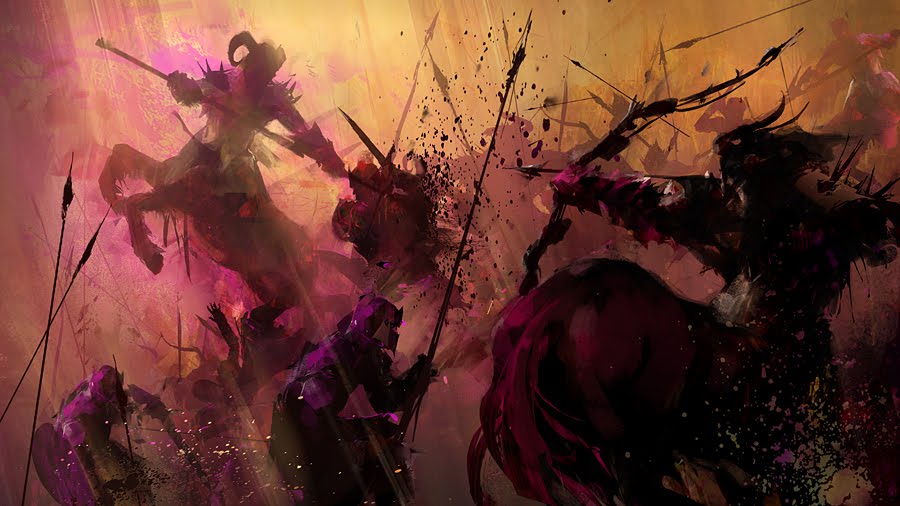 JRF: Do you listen to music when you work?
RA: Yeah, I listen to music as well as audio books, but music is all over the place, [from] weird DJ stuff to punk rock from my high school days, to hip-hop stuff. Really, it's so all-over-the-place it's hard to say, but I guess one is the DJ Girl Talk, he's awesome (or she–not sure if it's a girl or guy).
JRF: What are your goals as an illustrator? Any "big dreams" you hope to achieve?
RA: Just to learn more you know, create more. No dreams really, I just like to get better and make more art, and maybe work with Ridley Scott just once. Gladiator is still number one to me. [Yes, that movie rocks. –JRF]
Thanks for the insight into your incredible work, Rich. Keep the brilliant images coming…
–John R. Fultz