World Fantasy Awards to be Presented this Weekend
World Fantasy Awards to be Presented this Weekend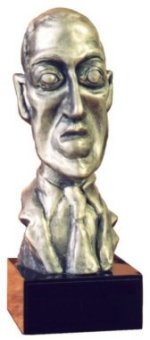 Well, here it is Thursday, so I must be Goth Chick. Except I'm not.
Apologies to all those who tuned in today for their regular dose of 80's sci-fi movie nostalgia and penetrating interviews with the luminaries of modern horror. Goth Chick is unavailable for her regular Thursday slot this week.
Monday is Halloween, the most important night of the year, and she apparently has more important things to do than be here with us today. Things that likely involve the sacrifice of small farm animals, midnight Sabbaths, and ancient voodoo rites. But I shall say no more, on the advice of counsel and due to the sticky consequences of federal libel law. We wish her well, whatever she's doing, and we hope there are no witnesses.
Instead, let's turn our attention to the World Fantasy Convention, happening this weekend in San Diego. WFC is hands-down my favorite convention, and I've been attending since 1984, when it came to my home town of Ottawa.
What's so cool about WFC? For one thing, it's a professional convention, attended chiefly by established writers, editors, agents, and artists. You can't sling a dead cat in the dealer's room without hitting half a dozen well-known names. And unlike other cons (I'm looking at you, Dragon*Con), slinging a dead cat won't instantly win you half a dozen new friends, either. At WFC, that sort of thing isn't done.
For another thing, the WFC is where the World Fantasy Awards are presented — the highest honor our field can bestow. That's one above on the left. Yes, they're in the shape of our beloved patriarch, H.P. Lovecraft. And just like the man's work, the statue both fills you with a sense of wonder, and kinda gives you the creeps at the same time.
This year six novels have been nominated for the World Fantasy Award.  Rather unusually, they were reviewed en masse by Yvonne Zipp at The Washington Post this week. Here's the list of nominees:
Lauren Beukes, Zoo City [Jacana (South Africa)/Angry Robot]
N K Jemisin, The Hundred Thousand Kingdoms [Orbit]
Graham Joyce, The Silent Land [Gollancz/Doubleday]
Guy Gavriel Kay, Under Heaven [Viking Canada/Roc/Harper Voyager UK]
Karen Lord, Redemption In Indigo [Small Beer Press]
Nnedi Okorafor, Who Fears Death [DAW]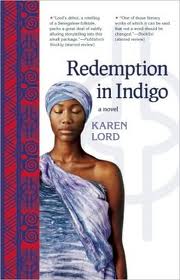 And here's what Zipp said about Redemption in Indigo:
Paama, has attracted otherworldly attention in Barbados writer Karen Lord's delightful first novel, Redemption in Indigo (Small Beer; paperback, $16), which was inspired by a Senegalese folk tale. An accomplished cook with a glutton for a husband, Paama deals with him so cleverly that she attracts the attention of immortal spirits. They give her the Chaos Stick, which allows her to influence the fates of those around her. Unfortunately, the previous owner of the stick — an indigo-skinned immortal — wants it back. Filled with witty asides, trickster spiders, poets and one very wise woman, Redemption in Indigo is a rare find that you could hand to your child, your mother or your best friend.
The complete list of Award nominees is here.
Many of the staff of Black Gate will be in attendance at the convention, including Managing Editor Howard Andrew Jones, website editor C.S.E. Cooney, bloggers Scott Taylor, John R. Fultz, and Patty Templeton, and me, publisher and editor John O'Neill — as well as many of our friendly and hard-working contributors.
If you're at the convention, look us up! We'd love to talk to you.
Hope to see you there.