Goth Chick News: Frank is the new Drac
Goth Chick News: Frank is the new Drac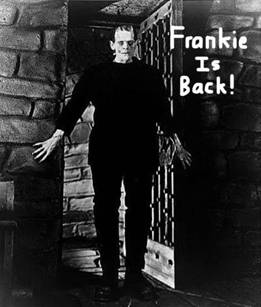 Ever since interviewing Charlene Harris, I must admit to being a big fan of True Blood. But it's important to note that the HBO series encompasses far more creatures than just vampires and the vampires that do reside in Bon Temps, LA where all the action takes place, at least adhere to the widely accepted folklore such as adversity to daylight, stakes through the heart, etc.
No daytime sparkly angst here.
But let's be honest. Between the TV shows and movies of the last five years, vampires are suffering from overexposure. And like any fad that has run its cultural course, nothing says "over" like being slapped on a lunch box come back-to-school time.
Goth Chick's prediction for 2012 fashion? Vampires are out. Man-made monsters that defy all the laws of nature are way in.
To prove my point, there are already several early adopters in both the big and small screens.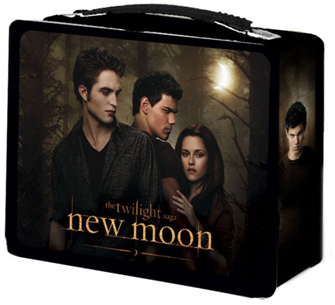 Executive producers Garrett Lerner and Russell Friend who brought us House are putting together the script for NBC's "modern-day take" on Mary Shelley's horror classic Frankenstein.
No casting details have been announced thus far, but let's hope Dr. House won't be doing any reanimating.
In movies we can look forward to Steven Niles's graphic novel Wake the Dead being adapted for the big screen.
The flick is being produced by Slasher Films, fronted by none other than the "Slash" of Guns-n-Roses fame (yes, you read that right). An all grown up Haley Joel Osment, our adorable little seer-of-dead-people from The Sixth Sense, will star.
Haley will play Victor Franklin, a college student who wants to try his hand and bringing people back from the dead. As we can all guess, he succeeds, but is none too happy with the results if you know what I mean.
With its star in place, the movie will go into production this fall with a release date yet to be announced.
And this last one is not to be missed from what I've heard.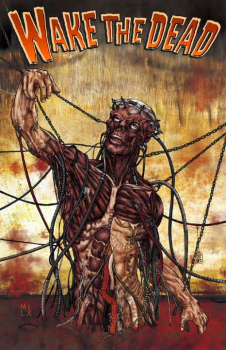 Because of the wild success Danny Boyle's (the Oscar-winning director of Slumdog Millionaire) adaptation of Frankenstein currently running at London's National Theatre, select movie theaters across the US will be broadcasting performances in March, 2012.
Critics have raved about Danny's interpretation of the piece, as well as his casting stunt of switching the main actors who play Dr. Frankenstein and his creature during select performances.
Since there is this twist, there will be two separate performances to get tickets for: March 17th and March 24th.
Attend both performances and you'll get to see the two stars, highly feted actors Benedict Cumberbatch of BBC's Sherlock and Jonny Lee Miller, who appeared in one of Boyle's earlier films, Trainspotting, manage to outshine the incredible sets, sounds and special effects.
To see when and where a performance will be shown near you, click here for details.
And if you're not sure you're up for watching a London theater performance on a US movie screen, watch the trailer and think again.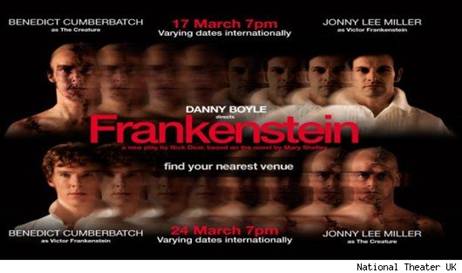 So there you have it; I'm sticking my neck out and saying that "The Creature" is the next big thing. And if you want to really be cutting edge at the next cocktail party, remember these important facts:
"Frankenstein" is the doctor who created the creature.

"The Creature" doesn't have a name.

True aficionados utterly ignore the existence of

The Bride

(an atrocity more profound than Victor Frankenstein's).

When talking about Universal Studio's original movie monsters, it's probably a fair cop to say that playing Dracula required greater acting abilities than Frankenstein, regardless of who may currently be in vogue. (Or at least that the premise behind one of my favorite movie clips of all time – click

here

to watch).
Have an opinion about vampires vs creatures? Post a comment or drop me a line at sue@blackgate.com.