Goth Chick News: Kelley Armstrong's Bestselling Otherworld Series Celebrates Its 10th Anniversary and Hollywood Digs Up an Old Fav
Goth Chick News: Kelley Armstrong's Bestselling Otherworld Series Celebrates Its 10th Anniversary and Hollywood Digs Up an Old Fav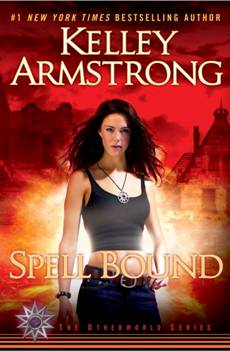 It's only September 1st but the bales of hay and plastic skeletons have already lined the shelves of the local craft stores for over a month. Though I dutifully grouse about Christmas music echoing through the malls in mid-October, Halloween accoutrements in July simply means that for a few short months of the year, my home décor is in trendy step with the retail market.
And though I won't amp up the props that send the neighbor kids screaming back down the sidewalk until the official start of the "the Season" on October 1st, the appearance of jumbo bags of assorted candies and plastic Iron Man costumes at Target means I'm well within my rights to break out the black food coloring and a few bottles of Vampire Wine.
Which I will drink while sinking my fake pointy teeth into some awesome, pre-season offerings.
Believe it or not, I learned it's been ten years since Bitten, the first novel in Kelley Armstrong's New York Times bestselling Otherworld series. In that time hundreds of thousands of you have ravenously devoured the adventures of Armstrong's witches, demons, and werewolves.
In her latest outing, Spell Bound, Armstrong pulls out all the stops, bringing all of her supernatural characters together in what is clearly the first battle of an Otherworld war; and I can't wait to dig in.
Here's the publisher's description:
Spell Bound is once again told from the point of view of young Savannah Levine as she continues to navigate the world of supernaturals. Savannah is in terrible danger, and for once she's powerless to help herself. At the conclusion of Waking the Witch, Savannah swore that she would give up her powers if it would help a young girl. Little did she know that someone would take her up on that promise. And now, witch hunting assassins, necromancers, half-demons, and rogue witches all seem to be after her. The threat is not just for Savannah; every member of the Otherworld might be at risk. While most of her fellow supernaturals are circling the wagons at a gathering of the council in Miami, Savannah is caught on the road, isolated from those who can protect her and unable to use her vast spell casting talent, the thing she counts on most. In a story that will change the shape of the Otherworld forever, Spell Bound gathers Elena, Clay, Paige, Lucas, Jaime, Hope, and others, who soon learn that the greatest threat to supernaturals just may come from within.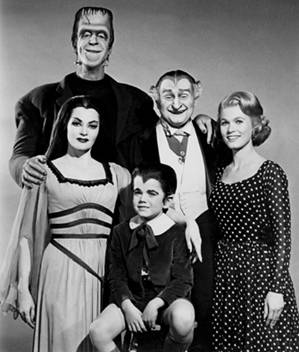 I only just latched onto the Otherworld series when I interviewed Kelley Armstrong last August and I'm still catching up. But another adventure with her supernatural entourage is a perfect way to kick off my most favorite time of the year.
But wait, there's more.
I'm sure you agree, an early whiff of fall is nothing without some black and white television classics to set the mood.
Last week it was officially announced that NBC is combining their love for classic TV remakes with their love for monsters by bringing back The Munsters.
We first heard about a new Munsters series back in September, 2010, but now NBC is officially developing the rebooted show with Pushing Daisies creator Bryan Fuller. The show will reportedly be a dark and edgier take on the monster family, and it will explore Herman and Lily Munster's origins.
If I smoked, I'd ask you to pass me a cigarette.
Instead, I'll just ask if you'd pour me another glass of the Dracula Pinot Noir. It's time to blow the dust off the coffin, inventory the rubber spiders and toast the approaching fun.
Are you a fan of Kelley Armstrong's menagerie of supernaturals? How you do feel about a television reboot for the Munsters? Or are you still working on your tan and wish I'd shut it about fall coming on? Post a comment or drop me a line at sue@blackgate.com.