September/October Fantasy & Science Fiction Magazine Now on Sale
September/October Fantasy & Science Fiction Magazine Now on Sale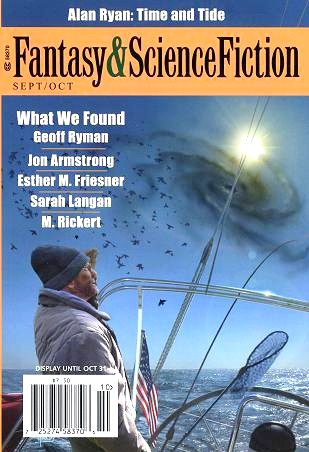 You're not good enough for the latest issue of Fantasy & Science Fiction. But it went on sale yesterday anyway. Consider yourself blessed.
The latest double issue contains a dozen stories from Geoff Ryman, Esther M. Friesner, Sarah Langan, Albert E. Cowdrey, M. Rickert, and many others. Due to the magic of the internet, there are already two complete reviews of the issue online before it even went on sale. You're not worthy. But there it is.
Lois Tilton reviewed the issue at Locus Online. Her thoughts on M Rickert's "The Corpse Painter's Masterpiece":
An intriguing title, a very strange and strangely beautiful work, edging over the border of the surreal, about death and the human heart, less about the corpse painter than the sheriff who brings him the bodies from the prison, to be painted before their funerals. Neither the sheriff nor his wife has ever been the same since the death of their young son, years ago… Original and moving, in a not-really-macabre way. –RECOMMENDED
And Tangent Online's Colleen Chen on cover story "The Man Inside Black Betty" by Sarah Langan:
A black hole, "Black Betty," is growing over New York as more matter gets sucked into it. Nicholas Wellington, the world's foremost expert on black holes, warns that soon the point of no return will pass and it'll be too late to save the Earth from eventually getting consumed by Black Betty. The story is less about the impending disaster as about why no one will heed Wellington's advice — he's a modern Cassandra, tragic and unlikeable, in a position of power yet disempowered by his own spotty past and alienating personality.

In the face of the extinction of all life, Wellington tries to save birds hit by Black Betty's radiation, reflecting the futility of the hope that people will emerge from the denial that has relegated Black Betty to the background of their lives. I found this story really depressing, even more so because it's done so convincingly that it makes this scenario seem entirely possible as our future. Not only is the science here excellent, but the story is reflective of modern-day politics and its tendency to argue over personality and minutiae even as the world falls apart.
F&SF is published six times a year; issues are a generous 258 pages. It is the longest-running professional fantasy magazine in the country, and has been published continuously since 1949. It is a great way to sample some of the fast-rising new names in fantasy.
This issue's cover is by David Hardy, for "the Man Inside Black Betty." Cover price is $7.50; one year-subscriptions are a bargain at $34.97, and include the giant October/November anniversary issue. You can order subscriptions and browse their blog at www.sfsite.com/fsf/. We covered the July/August issue here.