Fictional Frontiers Interviews Howard Andrew Jones
Fictional Frontiers Interviews Howard Andrew Jones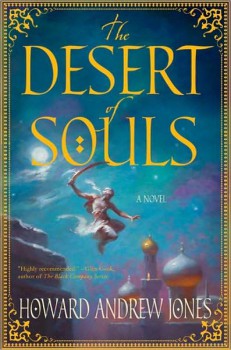 Sohaib Awan at Fictional Frontiers interviews Black Gate Managing Editor Howard Andrew Jones on his first novel The Desert of Souls, non-Western fantasy, juggling modern expectations in historical fiction, and much more:
Fictional Frontiers: I'm spouting hyperbole here, but I think it's so well earned…. give us an overview of The Desert of Souls.

Howard: Like a lot of adventure fiction, it starts with the discovery of a body. Of course, it's the body of a dead parrot. The parrot's beloved by Jaffar — I guess it's a little Disney joke, because you know, Jaffar and the parrot. But of course Jaffar was a real character… arguably the most famous vizier in Arabian history. Anyway… his guard captain Asim suggests an adventure into the market. So he and Jaffar and the scholar Dabir go out into the city in disguise, and a dying man presents them with a strange and beautiful artifact, a golden door pull, and he asks them to keep it safe.  And that's where things really take off. Dabir and Asim are tasked by Jaffar with learning the pull's origin and purpose. Naturally they're not the only ones after the thing, and they soon learn it may open a gateway to an unearthly realm, accessed in the ruins of the lost city of Ubar, which is sort of like an Atlantis of the sands.
The complete podcast runs 22 minutes, and is available here.