Scott Taylor at Game Knight Reviews
Scott Taylor at Game Knight Reviews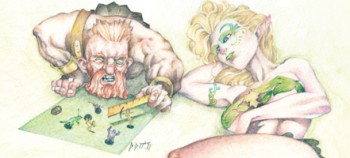 Black Gate's Scott Taylor, our esteemed Wednesday blogger and author of the Art Evolution series, is the first ever guest blogger at Game Knight Reviews this week. GKR is a terrific source of roleplaying game reviews, interviews and news, run by Brian Fitzpatrick.
Scott talks about how he first discovered Black Gate:
Sometime in 2008 I was shopping short story markets and someone on a blogging site indicated that the Swords & Sorcery magazine Black Gate was an option for a story I was writing. As a person always dedicated to wanting to know my market, and being a huge fan of Robert E. Howard and Fritz Leiber, I ordered three of the most recent copies of the magazine as 'research material.'

When they arrived at my home I was intrigued to find that they were included with a two page letter of thanks that was actually a 'choose your own adventure' concerning a haunted house and the spirits of half a dozen literary fantasy greats. I laughed and laughed as I went through it, died probably three times, and in my minds-eye was whisked away to the junior high library where I first picked up a copy of The Cave of Time.

That, my friends, is what Black Gate is about, pure nostalgia, humor, and of course some of the most outstanding fantasy fiction one can find on today's market.
Thanks for the plug, Scott! Glad to hear you enjoyed the mini solo-RPG we included as a subscriber letter with Black Gate 12. It's still available with every copy shipped.
You can read the complete guest blog here, and check out the excellent Game Knight Reviews here.