2010 Nebula Award Winners Announced
2010 Nebula Award Winners Announced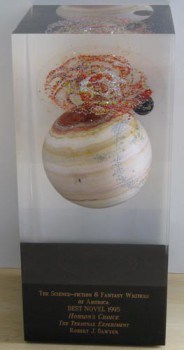 The Nebula Awards for the best science fiction and fantasy published in 2010 were awarded by the Science Fiction Writers of America in a gala celebration yesterday, part of the Nebula Awards Weekend.
The Nebulas have been awarded every year since 1965. This year's presentation was at the Washington Hilton in Washington D.C. It was especially poignant for Black Gate, since our own Amal El-Mohtar was nominated for her short story ''The Green Book'' (in the November issues of Apex magazine).
And the winners were:
Novel
– Blackout/All Clear, Connie Willis (Spectra)
Novella
– "The Lady Who Plucked Red Flowers beneath the Queen's Window," Rachel Swirsky (Subterranean, Summer 2010)
Novelette
– "That Leviathan, Whom Thou Hast Made, Eric James Stone (Analog, September 2010)
Short Story (tie)
– "Ponies," Kij Johnson (Tor.com,  January 17 2010)
– "How Interesting: A Tiny Man," Harlan Ellison (Realms of Fantasy,  February 2010)
The Ray Bradbury Award for Best Dramatic Production went to Inception, and the Andre Norton Award for Young Adult Science Fiction and Fantasy was won by I Shall Wear Midnight, by Terry Pratchett (Gollancz; Harper).
The Solstice Award for impact on the field of science fiction and fantasy was given to both Alice Sheldon (James Tiptree, Jr), and the artist Michael Whelan. The SFWA Service Award went to John E. Johnston III. Complete details on the awards can be found at Locus Online.
Congratulations to all the winners! And to Amal, both for being nominated, and for being so damn cool.