Andromeda Spaceways 50th and CSZ's 1st
Andromeda Spaceways 50th and CSZ's 1st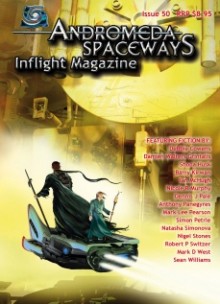 In addition to having the coolest title for a genre fiction magazine,  Andromeda Spaceways Inflight Magazine has reached its 50th issue milestone.  To celebrate, the cover is a reprint of the illustration by Les Petersen for the magazine's first issue. Stories by Debbie Cowens, Damien Walters Grintalis, Shona Husk, Barry Kirwan, Ian McHugh, Nicole R. Murphy, Dennis J. Pale, Anthony Panegyres, Mark Lee Pearson, Simon Petrie, Natasha Simonova, Robert P. Switzer and Mark D. West.  Print and PDF subscriptions and single issue purchases are available here.
Meanwhile, The Cascadia Subduction Zone (named after the earthquake corridor in the Pacific Northwest that is home base for the publication) has launched its inaugural issue. While its editorial mission is to bring more attention to women writers, and is not a genre publication per se, the women on the masthead may be familiar to genre readers.  Reviews editor Nisi Shawl is a James Triptree Jr. award winner, and features editor L. Timmel Duchamp has published short sf and is, along with arts editor Kath Wilham, a founder of Aqueduct Press.  And the first issue features a poem by Ursula K. LeGuin, as well as reviews of Karen J. Fowler, M. Rickert, and Kathe Koja.  There's also a review of Steampunk II: Steampunk Reloaded, edited by Ann and Jeff VanderMer.
Print and electronic editions and subscriptions are available at earth-shaking rates here.