Apex Magazine 23 Released
Apex Magazine 23 Released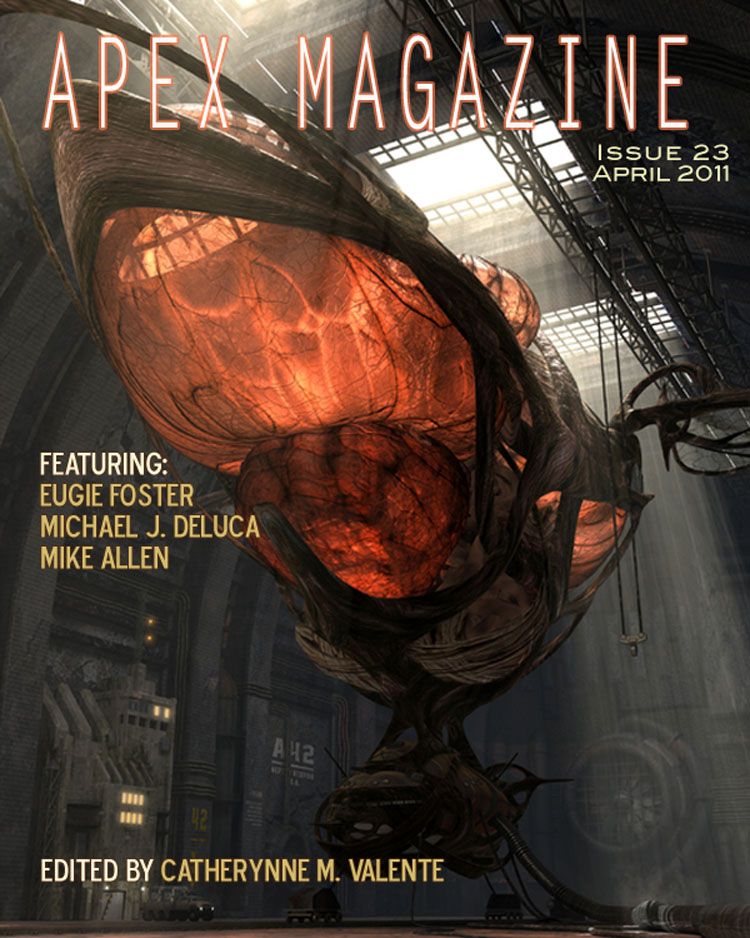 The April edition of Apex Magazine boasts what publisher Jason Sizemore terms "the first of our new expanded editions."
Editor Catherynne M. Valente's fiction selections include Eugie Foster's "Biba Jibun" and Michael J. Deluca marks his first Apex debut with "The Eater." The reprints are Mike Allen's Nebula Award-nominated "The Button Bin"  and Jennifer Pelland's Nebula Award-nominated story "Ghosts of New York" from Dark Faith, about which I said:
The opening story, "Ghosts of New York" by Jennifer Pelland, considers the afterlife of those who made the horrific choice to jump from the Twin Towers rather than remain in a burning buidling about to collapse. The whole subgenre of 9/11 fiction is tricky, given  our collective memory of something so frighteningly incomprehensible that's been trivialized over time with the endlessly surreal replaying loop of the imploding skyscrapers, but Pelland's take here is vividly disturbing in suggesting that memorializing the dead can make matters worse.
Also included are Rose Lemberg's poem "Thirteen Principles of Faith"and the history of the Nebula Awards by Michael A. Burstein.
Apex Magazine 23 is sold online for $2.99; it's also available in Kindle, Nook, and a downloadable format through Smashwords. Previous issues are available through their back issue page. We last profiled Apex with Issue 22.
You can subscribe and get 12 issues for just $19.99.