Fantasy Literature Reviews Black Gate 14
Fantasy Literature Reviews Black Gate 14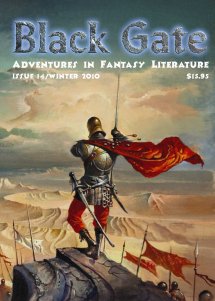 Terry Weyna at the Fantasy Literature blog has posted a detailed and embarrassingly complimentary review of our latest issue:
I've only just discovered [Black Gate]. And what a time to do so! The Winter 2010 edition, Number 14, is 385 pages long, the size of a hefty book. The price reflects that; few magazines will run you $15.95 in the print edition… But then, few magazines will give you as much great fantasy as this one, including first stories by four promising new authors. There are a very great many stories in this issue – 16 short stories and three novellas… More than a few of the pieces are exceptional, real standouts in a day when fantasy stories are as numerous as stars.
She was particularly struck by "Devil on the Wind" by Michael Jasper and Jay Lake:
It reminds you how what is old can be made new. This story is about Lena, one of the Killaster Witches, a woman who has just committed suicide – and been reborn – for the fifth time. There are eight witches, led by Black Mattieu, and they demand obeisance from the kingdoms that surround their hold. When Prince Falloe of Ironkeep fails to send the proper tribute, substituting instead two coppers (symbols of the pennies laid on a dead man's eyes), Black Mattieu sends Lena to teach the kingdom a harsh lesson. To say that Lena is not saintly hardly begins to tell the tale… The language used to describe her doings is rich and graphic, and the twists and turns of the tale unpredictable. "Devil on the Wind" is a marvelous story.
And Pete Butler's novella "The Price of Two Blades:"
Equally original and refreshing. A bard who is heading into a village notices the sizable cemetery outlying it, and notices that a great many of the tombstones all show the same date of death. He theorizes that the deaths could somehow be connected to the disappearance of the noted bandit gang led by King Kruthas. Soon, the villagers reveal that this, in fact, the case, and they sit him down to tell him the tale of how they were rescued from that dreaded army. The method of their rescue is one completely unique to fantasy, so far as I know, and the lesson one learns is sad and necessary. This novella is a small masterpiece, and I wouldn't be surprised to see it grace an awards ballot or two.
As well as "The Natural History of Calamity" by Robert J. Howe:
Also a winner… it offers up a new flavor of urban fantasy: a private investigator, of sorts, who works by figuring out what's going on with her clients' karma. Debbie Colavito discovered her calling when she read Ralph Waldo Emerson's essay "Compensation"…  she is helping Will Charbonneau figure out why his girlfriend left him. The break-up seemed to come out of the blue, and Charbonneau's own karma is in perfect balance, so what happened? From that question hangs quite a tale, and Colavito finds her own karma taking substantial hits as she investigates. The original concept of a karma detective really works here, and I hope I'll be reading more about Debbie Colavito.
She was also kind to several writers making their first sale in this issue, including Matthew David Surridge and Sylvia Volk:
The stories written by first time authors are among the best in this issue of Black Gate. Matthew Surridge's "The Word of Azrael" is the story of Isrohim Vey, a soldier who sees Azrael, the Angel of Death, on the battlefield at Aruvhossin, where seven kings and their armies lie dead but Vey still lives. Indeed, he seems to be the only living thing left on the battlefield after 36 hours of fighting. The Angel smiles at him and speaks a single word before vanishing, and Vey knows that he will see the Angel again. Vey makes the study of death the occupation of his life… It is a life worth living and a tale worth telling. I look forward to what will certainly be Surridge's long career, with many a good story and novel to support it.

Sylvia Volk's "On a Pale Horse" takes place in south Arabia, among the Bedouins. Salsabil is a beautiful young maiden who walks out with the flocks and the family's mare every day, and comes home so flushed that her family soon suspects she is being wooed. She is quickly betrothed to her cousin, the man she had expected to marry all along, and her family is curious at her seeming eagerness for the marriage. When her father asks her who she meets when out with the flocks, she confesses that it is a beautiful stallion that she sees there, perfect in every way – except for the horn upon his head. The unicorn plays a part in the conflict to come. Although Volk's tale ends tritely, the telling itself is nicely done.
You can find the complete review here, and check out the excellent Fantasy Literature blog here.
Copies of Black Gate 14 are still on our Back Issue Page, either individually or as part of a Reverse Subscription Sale — get any four back issues for just $50, or a 4-issue PDF sub for just $29.95! Print editions are available only while supplies last.