Preview of THE WHITE-LUCK WARRIOR
Preview of THE WHITE-LUCK WARRIOR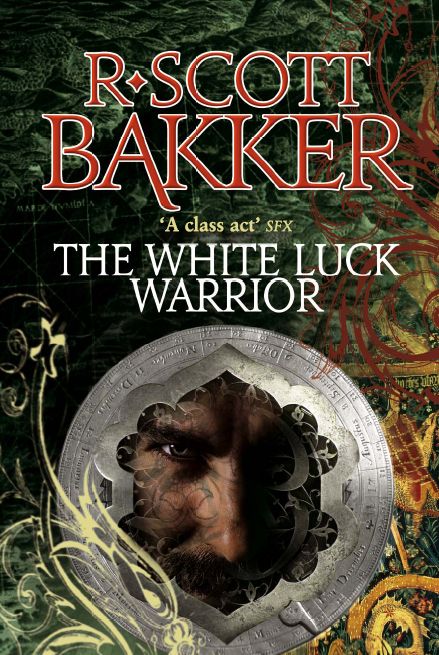 It won't be long now…
R. Scott Bakker's THE WHITE-LUCK WARRIOR hits stores on April 14, and I for one am extremely excited. 
Bakker fans have been waiting for this since Feb 2009, when THE JUDGING EYE was published as the first volume of THE ASPECT-EMPEROR series. This new series is itself a sequel to Bakker's amazing PRINCE OF NOTHING trilogy. Same world, many of the same characters, and a whole lot of epic fantasy excellence. It is a thinking man's adventure, a cerebral approach to high fantasy, and a journey into metaphysical realms of sorcery and spirituality.
A preview of THE WHITE-LUCK WARRIOR has been posted right here at Pat's Fantasy Hotlist: http://fantasyhotlist.blogspot.com/2011/03/exclusive-extract-from-r-scott-bakkers.html
Bakker is one of the most original fantastists to come along in quite awhile, and his stylistic prose is amazing in its clarity, attention to detail, and sheer philosophical scope. Here's a description of the new book:
As Anasûrimbor Kellhus and his Great Ordeal march ever farther into the perilous wastes of the Ancient North, Esmenet finds herself at war with not only the Gods, but her own family as well. Achamian, meanwhile, leads his own ragtag expedition to the legendary ruins of Sauglish, and to a truth he can scarce survive, let alone comprehend. Into this tumult walks the White-Luck Warrior, assassin and messiah both, executing a mission as old as the World's making ….
The White-Luck Warrior is a story filled with heart-stopping action, devious treachery, grand passion and meticulous detail. It is both a classic quest tale and a high fantasy war story.
As soon as I finish Howard Jones' THE DESERT OF SOULS, I am all over this! A new Bakker book is always cause for celebration. With these two novels and the impending release of the long-awaited A DANCE WITH DRAGONS from George R. R. Martin, this is one great year for epic fantasy…
Peace!
John