Take Advantage of the Great Apex Nebula & Stoker Award Sale
Take Advantage of the Great Apex Nebula & Stoker Award Sale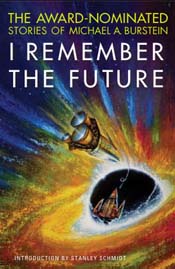 Jason Sizemore at Apex Book Company, publishers of Apex magazine and many fine Dark SF, Fantasy, and Horror books, tells us that to celebrate receiving two Nebula nominations and two Stoker nominations, Apex is having a sale on all books by authors who've received nominations.
The discount is 40% off print and digital versions of the following books:
Dark Faith, edited by Maurice Broaddus and Jerry L. Gordon — $11.97 (Buy Here)
To Each Their Darkness, Gary Braunbeck — $11.37 (Buy Here)
Taste of Tenderloin, Gene O'Neill — $8.37 (Buy Here)
Mama's Boy and Other Dark Tales, Fran Friel — $9.57 (Buy Here)
I Remember the Future, Michael A. Burstein — $13.17 (Buy Here)
Unwelcome Bodies, Jennifer Pelland — $8.97 (Buy Here)
Aegri Somnia, edited by Jason Sizemore and Gill Ainsworth — $8.97 (Buy Here)
Issue 18 of Apex Magazine, containing Amal El-Mohtar's Nebula-nominated story "The Green Book" is also 40% off. You can read the complete story here.
The special pricing ends March 14. Take advantage of a great sale to sample the work of some of the finest new writers in the genre!