Charles R. Saunders Reviews A Desert of Souls
Charles R. Saunders Reviews A Desert of Souls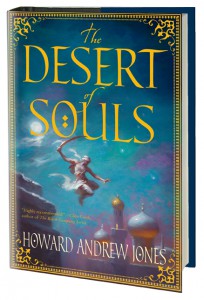 Charles R. Saunders, author of the legendary Imaro books, has weighed in on Howard Andrew Jones's first novel:
What, then, is so special about The Desert of Souls? Well, just about everything.

Drawing on his extensive knowledge of the Middle East during the initial bloom of Islam's ascendance, Howard brings to life the storied past of places such as Baghdad, Basra, Mosul… To this tapestry of history, Howard adds several threads of sorcery…

The protagonists and the patron become involved in a fatal encounter in a local bazaar. Events swiftly escalate into a maelstrom of murder, theft, escape, pursuit, magic, mayhem, romance, rejection and redemption, The characters — and the reader — whirl along in a breakneck journey through a Middle East that is ancient, yet well beyond the cusp of irreversible change…

Yet for all this homage to the past, Howard also breaks new ground with this novel, which places him firmly among the ranks of such new-wave sword-and-sorcery writers as Joe Abercrombie, James Enge and Steven Erikson, to name just a few. Remember Howard Andrew Jonses' name. You will be hearing — and reading — more from him.
Charles' review joins the recent rave coverage from BookPage, Bush League Critic, and SF Revu.
You can read Charles' complete review here.