Howard Andrew Jones and Scott Oden Surround the Sword Woman
Howard Andrew Jones and Scott Oden Surround the Sword Woman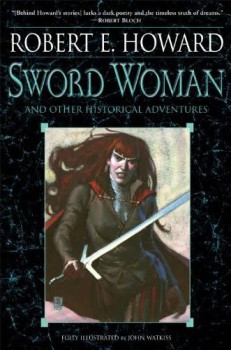 As Howard Andrew Jones month heads into the final stretch, we still have several exciting developments to tell you about.
First is the release this month of Robert E. Howard's latest thick collection, Sword Woman and Other Historical Adventures, featuring a generous selection of classic pulp adventure tales from the creator of Conan, including "The Sowers of the Thunder," "Lord of Samarcand," "Hawks of Outremer," and "The Road of Azrael." This is the 11th volume in the handsome Del Rey editions of collected Howard fiction, following The Coming of Conan the Cimmerian, the two-volume The Best of Robert E. Howard, and El Borak and Other Desert Adventures.
Howard Andrew Jones teamed up with fellow Black Gate blogger and historical fiction author Scott Oden to bookend the collection: Scott wrote the introduction, and Howard the lengthy 22-page afterword, "Howard's Journey," which puts REH's historical fiction in proper context with the great pulp writers who preceded him.  From his afterword:
Pound for pound Robert E. Howard's historical fiction more than holds its weight against Howard's other genre and series work. Over just a few years Howard fashioned a grander helping of these stories than many historical writers craft over a lifetime… It should not be assumed, though, that he wrote any of his stories in a vacuum… Professional author though he was, Howard still had to find his comfort level with the genre. He did so in part by being familiar with both history and the writers who brought it to life before him…

Scholars have noted the influence of Jack London and Rudyard Kipling in his work, as well as Howard's familiarity with myth and legend, likely via Thomas Bulfinch. The shadow cast by adventure and historical adventure writer Harold Lamb has been noted but never discussed at length. Robert E. Howard seems to have found a kind of kindred spirit in Lamb, and progressed from modeling off his fiction until, student growing to master, Howard matched and even sometimes surpassed his skill.
Sword Woman is fully illustrated by John Watkiss. It includes 18 complete stories, over a half-dozen fragments, and detailed notes on the texts. It is available in trade paperback for $18, and clocks in at over 570 pages. The series is edited by Rusty Burke.