The Desert of Souls Now Available in Kindle Edition
The Desert of Souls Now Available in Kindle Edition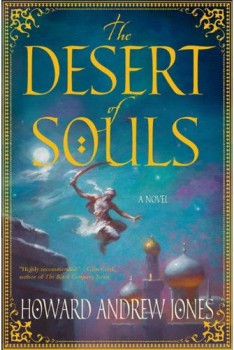 Howard Andrew Jones' first novel The Desert of Souls is now available in Kindle format through Amazon.com's online store.
The Kindle edition is priced at just $11.99, a thirteen dollar discount from the hardcover.
Rave reviews continue to pour in for The Desert of Souls, including these recent comments from some well-known fantasy authors:
"A grand and wonderful adventure filled with exotic magic and colorful places — like a cross between Sinbad and Indiana Jones." — Kevin J. Anderson

"Like the genie of the lamp, Howard Jones has granted this reader's wish for a fresh, exciting take on the venerable genre of sword-and-sorcery!" — Richard A. Knaak

"Howard Andrew Jones spins an exciting and suspenseful tale in his historical fantasy debut. A rich, detailed tapestry — part Arthur Conan Doyle, part Robert E. Howard, and part Omar Khayyam, woven in the magical thread of One Thousand And One Nights." — E.E. Knight
The upcoming Black Gate 15 will excerpt the first two chapters of The Desert of Souls. But don't wait — order your copy today!