"A Paladin, a Fighter, or a Thief!" S.J. Tucker Gives Away a Freebie
"A Paladin, a Fighter, or a Thief!" S.J. Tucker Gives Away a Freebie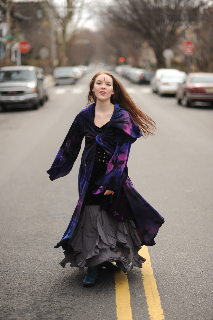 "Come bards from the north, elves off the moor
Gamers off work get down to the store
Scratch your neighbor what's underneath?
A wizard or a cleric or a thief!"
Musician S.J. Tucker (of whom I have spoken at length) has released a FREE SONG on her website, entitled "D&D."
And it has orcs and elves and paladins in it (oh, my!), 'cause she's just that cool.
She writes in her LiveJournal:
This is my first time writing and releasing a parody: "D&D" is sung to the tune of "The Napoli" by Mr. Steve Knightley of British folk group Show of Hands. …Definitely give a listen to the original as well as to my parody version–it's every bit as cool for different reasons, being about a (relatively recent) shipwreck…there's piracy.

…This is very exciting for me, guys, not least because I have proof now that my years of filling out character sheets has, in fact, paid off…or it will, if you help me spread the word. Please download the song and share the link with others–encourage friends to explore my other available downloads as well; you know how it works, every little bit makes a difference!
Check it out! It's way fun. And I've never even played Dungeons and Dragons in my life!