Goth Chick News: Get That Raven an Agent
Goth Chick News: Get That Raven an Agent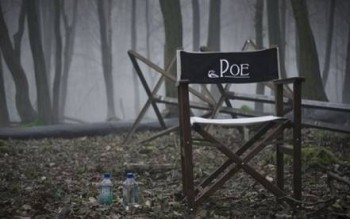 Here is definitive proof there is life after death.
Over the last couple years, the lovely Ms. Betty White has been blogged, tweeted and Facebooked back into the Hollywood limelight at the age of 89. She is "cute" and "sweet" and now apparently even "hot" by the standards of an entertainment industry which generally saves its highest praise and adoration for the youthful (or at least the youthful appearing).
Betty White's resurgence of popularity is nothing short of miraculous when taken in this context.
However, relatively speaking, Ms. White is jail bait beside Mr. Edgar Allen Poe, who last month turned 202 and seems to be enjoying a second public life of his own.
And the one thing he is which Betty White definitely is not (as far as we know) is dead; a state Poe has been in for 162 years but which is not stopping him from recently getting his name in the press, or starring in several upcoming Hollywood projects.
Of course it doesn't hurt to be terminally interesting as well.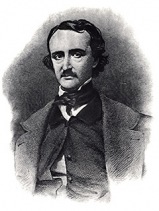 Let's take all the common, historical items you already know about the man as a given, and start with Poe's now missing and highly mysterious birthday "toaster."
The Poe Toaster tradition is said to have begun on Poe's birthday in 1949, 100 years after his death, and continued annually until 2009. Each year, in the early hours of the morning of January 19th, a black-clad figure with a silver-tipped cane, presumed to be male, would enter the Westminster Hall and Burying Ground in Baltimore.
At the site of Poe's original grave, which is marked with a commemorative stone, he would raise a cognac toast and place three red roses on the grave marker in a distinctive configuration, along with the unfinished bottle of Martell cognac. The roses were believed to represent Poe, his wife Virginia, and his mother-in-law Maria Clemm, all three of whom were originally interred at the site.
The significance of the cognac is uncertain, as it does not feature in Poe's works (as would, for example, Amontillado).
However, the toaster failed to appear on Poe's birthday in 2010 and again just last month, giving rise to speculation that the gentleman in question had died.
But Poe enthusiasts also point out that 2009 would have been Poe's 200th birthday and a fitting point to stop the tradition.
Whatever the reason, the missing toaster landed Edgar Allan Poe in the news coast-to-coast, including a mention on CNN, and spawned some interesting souvenirs as well.
Then we have the upcoming 2011 movie release The Raven staring John Cusack.
Directed by James McTeigue (he of V for Vendetta), the plot centers around a fictionalized account of the final five "mysterious" days of Edgar Allan Poe's life. Apparently the famous writer joins the hunt for a serial killer whose murders are inspired by his stories.
The real death of Poe was genuinely mysterious. The writer was discovered on the streets of Baltimore in great distress and in need of "immediate assistance."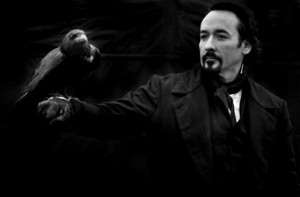 Wearing someone else's clothes and repeating the name "Reynolds," Poe died shortly after in the hospital, never able to explain what had happened.
Speculation has run from an undiagnosed rabies infection which ultimately resulted in madness, to a kidnapping plot driven by election fraud, to the final sad result of a lifetime of melancholy fueled by alcohol and drug use.
The Raven is being distributed by Relativity Media but hasn't yet been given a release date, other than it will be in theaters sometime this year.
And though it was widely speculated Johnny Depp would have been the best choice to play such a brooding and complex character, I found no evidence he was even considered and wondered if the end result would have looked too much like the offspring of Ichabod Crane and Sweeny Todd in any case.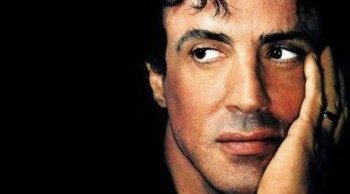 From what I've turned up so far, I'm definitely willing to give John Cusack a fair shot.
Then, on the other hand we have this.
Apparently Sylvester Stallone has been shopping a script since the early 80's which he helped write, entitled Poe. Not only has it been green-lighted but will also be directed by Rocky himself.
In an MTV interview last August, the Sly-ster chatted about his project.
"I will direct it, but it's never gonna live up to the hype… No matter what I do it's going to bomb, totally. Totally! When you've been talking about something for 30 years, it's impossible [to live up to those expectations]."
Well, let's congratulate him on being realistic in any case.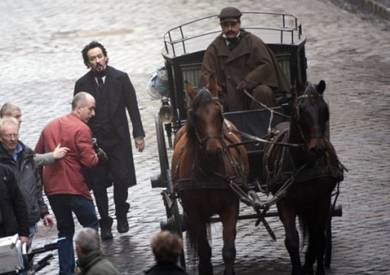 Poe is described as "a chronicle of the legendary American writer's life, from his famous works and bouts with madness and depression, to his mysterious death in 1849."
I still wasn't sold, mainly because of who this movie's father was.
However, I have turned up several credible accounts that my personal fav Robert Downey Jr. has signed on to play Poe, so I'm willing to reserve my snarky comments until more information leaks out.
It might be awhile, since my sources indicated Poe is a Christmas, 2012 release at the earliest.
And not to be left out of this seeming EAP craze, here comes TV to jump on the bandwagon.
Now that pilot season is well underway, we've gotten word that ABC has apparently ordered a crime drama also by the name of Poe, in which Edgar Allen Poe solves mysteries.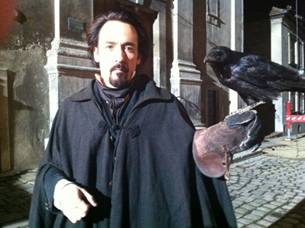 The series pilot was written by Alias' Chris Hollier, who is producing the story along with Dan Lin, who produced Robert Downey Jr's Sherlock Holmes film.
I feel a pattern forming out of this chaos.
Though it reads like a quaint and curious volume of forgotten lore, here's the official description of Poe:
"Crime procedural following Edgar Allan Poe as the world's very first detective, using unconventional methods to investigate dark mysteries in 1840s Boston."
We'll be tuning into this little gem sometime in the fall, and though it has a pretty good pedigree in Hollier and Lin, I must say I'm skeptical.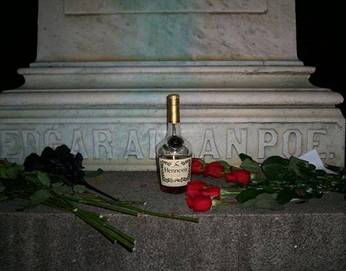 So there it is. Mr. Edgar Allan Poe, he of the tragic life and mysterious death, he who immortalized a black bird in timeless prose but met his end nearly penniless in a Baltimore gutter, has found a brave new world of 21st century fame.
Whether or not these tributes will eventually live up to the status of their subject is yet to be seen.
In the meantime, I've got a fever and the prescription is Christopher Walken reading The Raven.
Are you looking forward to the upcoming EAP features or is there a historic figure you'd like Hollywood to pay homage to?
Post your ideas here or drop me a line at sue@blackgate.com.