Short Fiction Round Up: Bull-Spec
Short Fiction Round Up: Bull-Spec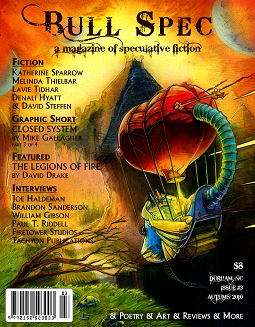 While other magazines are dying (and then, a la Realms of Fantasy, being  resurrected) or publishing irregularly, editor Samuel Montgomery-Blinn is making good on his promise to deliver four issues this year of his newly launched Bull-Spec.  Fiction for issue #3 includes the always interesting Lave Tidhar, as well as Katherine Sparrow in addition to  Melinda Thielbar and the first professional sales for Denali Hyatt and David Steffen.
My review of the previous issue is here.
You shouldn't take any bull, just subscribe to it.