Dark Worlds Magazine #5 Arrives
Dark Worlds Magazine #5 Arrives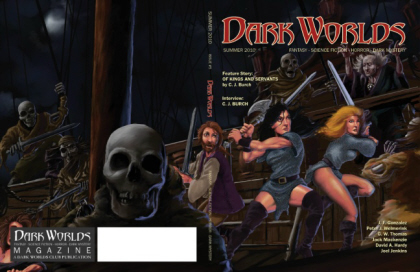 Dark Worlds #5 (Summer 2010) is online at last.
Fans of the magazine will notice a few changes. First, it's now in quarto size (7 1/2″ x 10″) instead of 6″ x 9″ trade paper size (to make it more like an old pulp) and the cover is a wraparound.
The cover illustrates "Of Kings and Servants," and is painted by M. D. Jackson. The interior pages have a new graphic look as well.
This issue features the work of C. J. Burch (author of The Star of Kaleel – a novel  reviewed in this issue). C. J. offers the Tiana Dumond and Krystyn Hamerskjold novella "Of Kings and Servants," a Sword & Sorcery tale of undead pirates and evil magicians. Cover artist M. D. Jackson also did the illustrations.
Mr. Burch also offers an unusual interview in a Chuck the Barbarian cartoon!
Also in this issue: "The Hook" by J. F. Gonzalez (Author of Survivor and most recently The Summoning), a splatter tale about urban legends. Who hasn't heard the one about the Hook? There's more behind it than you ever guessed. Illustrated by G. W. Thomas.
"The Black Grave of Deception" by Peter J. Welmerink is a heroic fantasy story about two thieves and a terrible old ruin. Sturoq of the dead city of Dunhugel and his less-than-respectable friend Foulshred have no idea what waits for them in the Tomb of Unknowable Souls. Illustrated by Aaron Siddall.
"Body of Work" by G. W. Thomas is a Mythos Mystery concerning a mystical book , a corpse and an equally strange dagger. Can the Book Collector find his quarry in less than 24 hours? This story is part of the Book of the Black Sun series. Illustrated by M. D. Jackson.
"The Cryo Game" is a modern space adventure that follows Captain Betratina Rankin as she tries to escape a murder frame-up and falls in love. By Jack Mackenzie and illustrated by G. W. Thomas.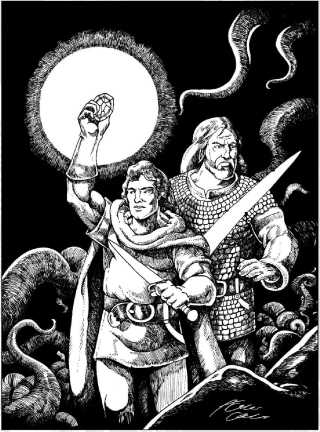 "The Black Destiny of Ys" by David A. Hardy is a fantasy set in dark ages England. Illustrated by M. D. Jackson. Hardy brings a love of adventure and a great knowledge of history together in another fine tale.
"Against the Gathering Darkness" by Joel Jenkins is a horror-adventure set in the gold fields of the Klondyke Gold Rush and stars none other than Wyatt Earp. Illustrated by G. W. Thomas.
DARK WORLDS MAGAZINE #5 is published by RAGE machineBooks and edited byG. W. Thomas. 
It's available in POD format for $14.59, and as an Ebook for $3.99. Both formats are 102 Pages.
Art by Aaron Siddall for "The Black Grave of Deception."
---
G.W. Thomas is the editor and publisher of Dark Worlds. His Dark Worlds blog is here.