Dark Worlds Magazine #5 Arrives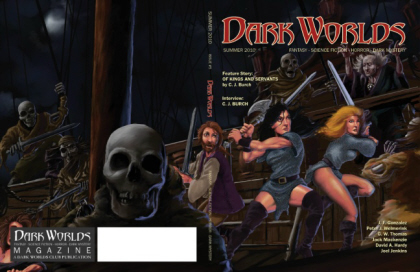 Dark Worlds #5 (Summer 2010) is online at last.
Fans of the magazine will notice a few changes. First, it's now in quarto size (7 1/2″ x 10″) instead of 6″ x 9″ trade paper size (to make it more like an old pulp) and the cover is a wraparound.
The cover illustrates "Of Kings and Servants," and is painted by M. D. Jackson. The interior pages have a new graphic look as well.
This issue features the work of C. J. Burch (author of The Star of Kaleel – a novel  reviewed in this issue). C. J. offers the Tiana Dumond and Krystyn Hamerskjold novella "Of Kings and Servants," a Sword & Sorcery tale of undead pirates and evil magicians. Cover artist M. D. Jackson also did the illustrations.