Wolfe's lost road: Discovering an author's personal essay on J.R.R. Tolkien
Wolfe's lost road: Discovering an author's personal essay on J.R.R. Tolkien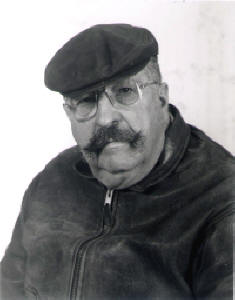 Freedom, love of neighbour, and personal responsibility are steep slopes; he could not climb them for us—we must do that ourselves. But he has shown us the road and the reward.
–Gene Wolfe, "The Best Introduction to the Mountains"
J.R.R. Tolkien has so many readers, and his works have become so pervasive in the broader culture, that coming to his defense hardly seems necessary anymore. Haven't we established Tolkien's credentials by now? Magazines like Time have selected The Lord of the Rings as one of the top 100 novels ever written, according to Wikipedia it's one of the top 10 best-selling books of all time with 150 million copies sold, and the movies upon which it's based won several Academy Awards, including Best Picture. Tolkien has made it onto several college syllabi and there are academic journals and numerous critical studies devoted to his works, including Tom Shippey's par excellence works Author of the Century and The Road to Middle-Earth.
But someone always comes along to attack Tolkien on the basis of his conservatism or religion, his perceived racism, and/or the perceived shallowness/non-literary nature of The Lord of the Rings, and I'm reminded of why we need to vigilant. For example, David Brin of Salon.com, Science fiction/fantasy author Richard Morgan (author of The Steel Remains), and Philip Pullman (author of the His Dark Materials trilogy) have all taken shots at The Lord of the Rings and/or Tolkien himself in recent years, calling him outdated and dangerously conservative (Brin), a refuge for 12-year-olds and adults who have never grown up (Morgan), and shrunken and diminished by his Catholicism (Pullman).
Now I'm not saying Tolkien is above criticism, but critics like Brin and Morgan have essentially gutted The Lord of the Rings, attacking it on an existential basis and more or less claiming it should be placed in the dustbin of history. When people take aim at classics like Ulysses or Moby Dick you rarely see criticism elevated to the level of calling into question the very existence of these works. Yet Tolkien criticism for whatever reason frequently ascends to shrill peaks of outrage.
Which is why Tolkien's fans and readers will probably forever have to take up Andúril and step into the shieldwall to defend the good professor's works. Fortunately, much of the legwork has already been done in works like Meditations on Middle-Earth. Published in 2001, Meditations is a collection of essays about Tolkien by a host of bestselling fantasy and science-fiction authors, including George R.R. Martin, Poul Anderson, Terry Pratchett, Robin Hobb, Ursula LeGuin, Douglas Anderson, Orson Scott Card, Charles De Lint, and Terri Windling, among others. Some of the essays are inspiring and illuminating, others mere fun anecdotes about discovering Tolkien, but all share one thing in common: A profound respect for the man who pretty much put fantasy on the map. Yes, I know works like The Well at the World's End and The King of Elfland's Daughter predated The Lord of the Rings, but it was Tolkien who elevated fantasy into the mainstream. Without the market Tolkien created, many of these authors would never have seen print.
As a fan of Haber's book I was pleasantly surprised to happen across "The Best Introduction to the Mountains" by Gene Wolfe during a recent web search. As it turns out, Wolfe had submitted the essay for Haber's consideration in Meditations on Middle-Earth but was rejected. Fortunately Andrew Robertson, a former editor for Interzone, later published the essay for the magazine and has since posted it to his personal website.
For those who don't know Wolfe he's the author of works like The Book of the New Sun and The Wizard Knight. Among fantasy aficionados he's known as one of the genre's best writers. Literary and stylish are frequently used to describe his works, terms with which I agree wholeheartedly. Even though "The Best Introduction to the Mountains" never saw print in Meditations on Middle-Earth it serves as fine grist for the mill for those who love and value the works of Tolkien, adding another big-time name to the roll of authors who have drawn a lifetime of inspiration from The Lord of the Rings. Just like Martin and Hobb and Anderson, Wolfe also seems to have found something of lasting value in The Lord of the Rings and Tolkien's other works.
Essentially, Wolfe's says that The Lord of the Rings taught him that right and wrong can be absolutes, and that absolute moral equivalency is another piece of Mordor. In addition, it taught him that "progress" is not necessarily progressive, and with change comes inevitable loss. Says Wolfe:
It is said with some truth that there is no progress without loss; and it is always said, by those who wish to destroy good things, that progress requires it. No great insight or experience of the world is necessary to see that such people really care nothing for progress. They wish to destroy for their profit, and they, being clever, try to persuade us that progress and change are synonymous. They are not.
(As an aside, I also love the fact that Wolfe inscribed his dog-eared copy of The Return of the King with a quotation from Robert E. Howard. That's just plain cool).
My only quarrel with Wolfe is with his belief that Tolkien also saw change as harmful in the main. I don't believe that's true. While Tolkien did experience nostalgia for the past, and mourned for the loss of a mythic time and a world drained of its magic, I would argue that Tolkien viewed change as not always bad, just inevitable, and "progress" as a harbinger of difference, not decay. Change can be for the better or the worse. Loss of individual freedom, increased mechanization and urbanization, the destruction of wood and field and stream—or the loss of native English language and mythology following the Norman invasion of 1066, to touch on a subject near and dear to Tolkien's heart—are all reasons to treat progress with skepticism.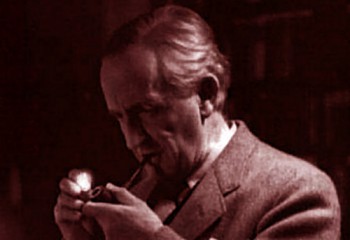 But Tolkien was not advocating a return to a mythic past, merely longing for something that once was, but will never be again. There's a difference. As Tolkien scholar Michael Drout states in Rings, Swords, and Monsters, nostalgia is a longing for something you cannot return to (if you can reach the object of your longing, it's not nostalgia, Drout says). Tolkien understood that change was inevitable, for better or worse, and works like The Lord of the Rings and The Silmarillion express a calm, mature, adult grief for that which is lost as an inevitable consequence of change. I don't see what's wrong with this viewpoint, nor do I understand how it can ruin one's enjoyment of Tolkien's works. It's not childish or arch-conservative. Tolkien does not disdain nor rail against progress. His is a calm, adult, rational dislike of unbridled modernity. He knew it was inevitable. Frodo's "triumph" at the mouth of Mount Doom was just a temporary victory. The world of men was coming, and with it great good and unspeakable evil. It's nostalgia, true, but I would argue that Tolkien is not advocating for a return to monarchy in The Lord of the Rings. He knew that we'll never have a being as perfect as Aragorn or Arthur to rule us, anyway.
Finally, it bears repeating that Tolkien expressed a longing for a mythic past. He was not mourning the end of British colonialism, or feudalism, as some critics suggest, but a time far more ancient, the unrecorded First through Third Ages of our own (Middle) Earth. The former are crude allegorical interpretations of a much broader, deeper, and more subtle work.
So head on over and read Wolfe's essay. Love or hate its conclusions, it's yet another moving anecdote by one of fantasy's greats that helps to explain Tolkien's rise from obscurity and initial critical disdain to lasting cultural prominence and relevance. Thanks for being another shield in the wall, Mr. Wolfe.