WINDWALKER: A Fantasy Masterpiece
WINDWALKER: A Fantasy Masterpiece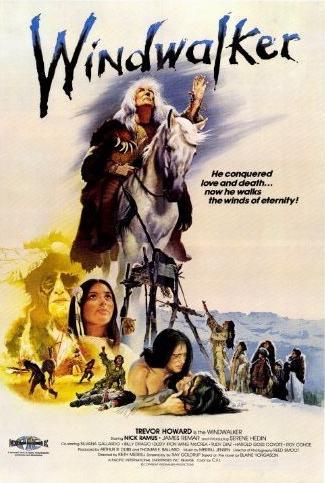 "He conquered love and death…
now he walks the winds of eternity."
Some movies have the power to sweep you away into a fantastic world and take you on an adventure that you will never forget. These films are legends in and of themselves, enduring visions that you want to revisit again and again. They are pure magic.
When I was about 11 years old (circa 1980), I entered a small-town theatre in Kentucky and discovered a film that transported me through space and time into the lives of a Cheyenne family struggling to survive in a savage world of stunning beauty.
The film was Kieth Merrill's WINDWALKER. It starred Trevor Howard, James Remar, and Nick Ramus. Recently I obtained a copy of this masterful film on DVD. Once again I took a journey into the primal world of two centuries ago, and once again I was mesmerized, moved, and thrilled by its powerful story, vivid characters, and sheer cinematic beauty. WINDWALKER is a film of quiet genius that never truly earned the praise it deserved, and if you've never seen it, you have a rare pleasure awaiting you.
The film hit theatres the same year as George Lucas' THE EMPIRE STRIKES BACK, one year before Steven Spielberg's RAIDERS OF THE LOST ARK, and two years before John Milius' CONAN THE BARBARIAN. It came at the tail-end of 1970s cinema, one of the most creative and vital periods of American filmmaking. Three years earlier, STAR WARS had changed the Hollywood landscape by breaking all the records for box office success and setting a premium on pure movie bombast and the blockbuster "formula." Perhaps that's why a more subtly magnificent fantasy like WINDWALKER soared gracefully under the radar. In the 30 years since its release, the movie's masterpiece status has been largely recognized by experts and critics.
Roger Ebert eventually called WINDWALKER "A magnificent movie…the vision and natural beauty of DANCES WITH WOLVES." Keep in mind this was a decade before Kevin Costner's Academy Award-winning homage to the plains Indians. What makes WINDWALKER an even more authentic experience than DANCES is that there are no "white men" in it at all. No cowboys, no U.S. Cavalry, no wandering trappers. It is a story about a desperate band of Cheyenne and the ruthless Crow who stalk them. What's more, the actors speak actual Cheyenne and Crow dialogue with English subtitles.  The only exception is the aged title character, who speaks in English only during his moments of voice-over, mainly when he tells the tragically beautiful story of his youth, and when he speaks to the Great Spirit.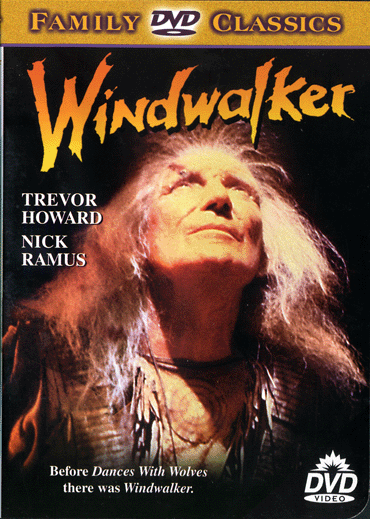 The American Anthropological Association voted WINDWALKER the "Number 1 Anthropological Film of All Time." The Detroit Free Press said it "Deserves an Oscar." It is a tale told against the timeless beauty of the Utah mountains, where it was filmed. The dialogue, in all three languages, is poetic and lyrical, full of brilliant imagery. The characters are three-dimensional beings, not Hollywood Amerindian stereotypes, and the story is grounded in real Cheyenne lore and culture, based on the novel by Blaine M. Yorgason. Yet perhaps the most effective element of the story is the sense of mysticism that pervades Windwalker's life, death, and "afterlife."
Here's how Wikipedia briefly summarizes the plot: "Trevor Howard plays Windwalker, an aged and dying Cheyenne warrior. As a husband and father, he helplessly watched the killing of his wife and the kidnapping of one of his sons by the Crow tribe. As he lies on his deathbed, he is spiritually brought back to answer the mystery about his missing son, in order for him to have a peaceful afterlife."
James Remar plays the young Windwalker in gorgeous and moving flashbacks showing how he won his wife Tashina (Serene Hedin) by stealing a heard of Crow ponies, the birth of his twin sons, and the tragedy that followed when his enemy Crooked Leg struck, resulting in the theft of a single twin. His quest to find the boy is successful, only to lose him again. (No spoilers.)
Now, as the old Windwalker lies on his deathbed, his son Smiling Wolf's family struggles to move south (ostensibly to reunite with the greater band of Cheyenne that has left them behind). Yet a bloodthirsty Crow war party waylays the family, and Windwalker is their only chance at survival. But wait—isn't he already dead? Is it love that calls him back, or an incomplete destiny?
"This is a good joke, Grandfather," Windwalker tells the Great Spirit as he wakes up and realizes he is not yet dead. Only when he sees the white horse that has returned to find him does he realize why he was not yet taken into the Land of the Sky People. Hungry wolves and a raging bear are only a few of the obstacles he must face, not to mention his own age and frailty. Yet in his elderly breast still beats the heart of a warrior.
This is fantasy at its very best. The fact that it is based in actual Amerindian culture and set in the mists of North American history does not diminish that quality of that fantasy in any way. At its heart WINDWALKER is a story about family, and the bonds that unite all peoples regardless of race, culture, or societal factors. It is an homage to the wisdom of the elderly, the fierce joy of the young, and the enduring strength of human nature. The story rises beyond its characters and setting to strike a chord deep in the soul. It is endlessly inspiring and completely unforgettable.
In an age of big-budget fantasy flicks that usually do not deliver the goods, relying far too much on special effects and stock plots to create anything of lasting value, it's terrific to have a film like WINDWALKER available on DVD for this generation and those to come. It's also one of those rare jewels: A movie the entire family will love, yet that doesn't dumb down its content to please the all-ages crowd.
In short, it is a masterpiece that every fan of fantasy, every film buff, and every Native American enthusiast cannot afford to miss. If you can't find it in your local video shop, you can order the DVD at www.Amazon.com.
Like the great stories that mankind has always told, WINDWALKER is something you'll want to come back and experience again and again.
Some legends never die…
Peace!
John