Goth Chick News: Video Killed the Radio Star
Goth Chick News: Video Killed the Radio Star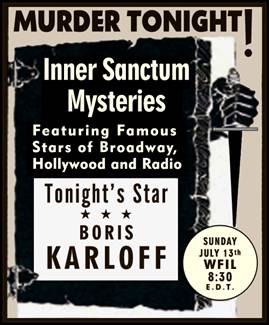 I've always been most terrified by the stuff I've never even seen. I've screamed my way through ghost hunting expeditions having never once actually laid eyes on an apparition of any kind. Jaws is one of my favorite movies, mainly for the scenes when you know the shark is somewhere just outside your line of sight, and I have read books that have made me afraid to have any part of me not under the covers once I'm in bed, for days on end.
It is universally true that what you imagine is exponentially more horrible than the reality, which is why hack-and-slash movies copiously strewn with limbs and drenched in bodily fluids have never done it for me.
It's no surprise then, that I've recently become addicted to the "theater of the mind" known as classic radio.
Having repeatedly watched the movie A Christmas Story, where little Ralphie makes a bee-line to the enormous living room radio to listen to "Little Orphan Annie," I was aware that radio serials predated television. But it wasn't until channel surfing on my satellite radio one day that I stopped on a station, and hearing Peter Lorre's voice, fell hopelessly in love.
No, not with Peter Lorre. I've been in love with him since reruns of "Alfred Hitchcock Presents" and "Tales of Terror." What I fell in love with was an old time radio drama called The Inner Sanctum, and I had to know more.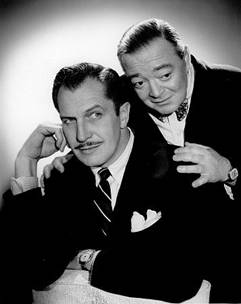 The show aired from January 7, 1941 to October 5, 1952 and an amazing total of 526 episodes were broadcast, many featuring screen stars such as Claude Rains, Boris Karloff, Frank Sinatra and Orson Welles.
Considering television was only just beginning to find its way into American homes, most people still relied heavily on radios for news and entertainment and The Inner Sanctum was particularly popular due to its gothic themes, which at that time were still a relative novelty.
The anthology series featured stories of mystery, terror and suspense, and its tongue-in-cheek introductions were one of its signatures. The early 1940s programs opened with famous radio personality Raymond Edward Johnson introducing himself as, "Your host, Raymond," in a mocking sardonic voice.
A spooky melodramatic organ score punctuates Raymond's many morbid jokes and playful puns. Raymond's closing is an elongated "Pleasant dreeeeaams, hmmmmm?"
His tongue-in-cheek style became the standard for many such horror narrators to follow (are you reading this, Son of Svengoolie?)
You can download 106 of the 526 episodes of The Inner Sanctum here for free.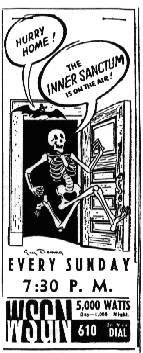 Following episodes of The Inner Sanctum, I next discovered the series called Suspense. This show debuted on the Columbia Broadcasting System (aka CBS) on July 22, 1940 ultimately logging a whopping 945 episodes and simultaneously bestowing Alfred Hitchcock with the honor of directing his first radio program for the American public.
Hitch decided to take the opportunity to bring a favorite story of his to the airwaves: "The Lodger." He had filmed this story 1926; a pseudo Jack the Ripper thriller starring none other than Ivor Novello.
(Note: for those of you who really want to geek out at this point, rent the 2001 murder mystery  Gosford Park, where Ivor Novello, played by Jeremy Northam, talks about his latest move "The Lodger.")
Adapting the script to radio was not a great technical challenge for Hitchcock, and he cleverly decided to hold back the ending of the story from the listening audience in order to keep them in suspense themselves. This way, if the audience's curiosity got the better of them, they would write in to the network to find out whether the mysterious lodger was in fact Jack the Ripper.
For the next few weeks, hundreds of letters came in from faithful listeners asking how the story ended. Actually a few wrote threats claiming that it was "indecent" and "immoral" to present such a production without giving the solution. It almost doesn't get any better than that.

The program's heyday was in the early 1950s, when radio actor, producer and director Elliott Lewis took over and the material reached new levels of sophistication.
The writing was taut, and the casting, which had always been a strong point of the series (featuring such film stars as Orson Welles, Henry Fonda, Humphrey Bogart, Judy Garland and Cary Grant), took an unexpected turn when Lewis expanded the repertory to include many of radio's famous drama and comedy stars — often playing against type — such as comedian Jack Benny.
The final episode of Suspense aired at 7:00 pm Eastern Time on September 30, 1962, often cited as the official end of the "Golden Age of Radio."
Go here to download 84 free episodes of Suspense.
Sadly, television eventually relegated these and other unbelievably entertaining offerings — such as The Shadow and The Haunting Hour — to obscure AM stations, and finally into the realm of collectibles.
However, many of the radio stories such as "Sorry, Wrong Number" first heard on Suspense found their way into television (as a Twilight Zone episode), and ultimately into the movies.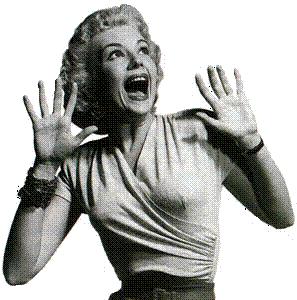 And now, in a convergence of technology that will either make you feel lucky to be alive in the 21st century, or send you running for your pain-killer of choice, Suspense has its own Facebook page, where you can listen to snippets of episodes and see pictures of the actors who starred in them.
Somehow I continue to miss the latest fad, even when its seventy years old.
Have something old and moldy that you'd like to share? Send your cob-webby thoughts to sue@blackgate.com attaching two silver coins and we'll see what we can do.