Ye'd Best Start Believin' in Ghost Stories
Ye'd Best Start Believin' in Ghost Stories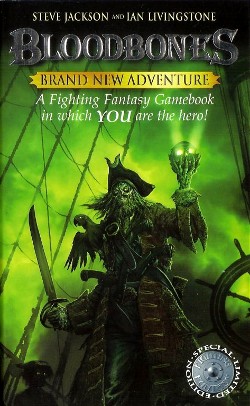 Bloodbones
Jonathan Green
Wizard Books (240 pp, ₤5.99, CAN$12.00, April 2010)
In 1982, Puffin Books unleashed The Warlock of Firetop Mountain, the first in the Fighting Fantasy line of gamebooks. The book was conceived and written by Steve Jackson (the British one) and Ian Livingstone, co-founders of Games Workshop. Although predated by solitaire RPG scenarios, Fighting Fantasy combined a choose-your-own-adventure decision-tree structure with a simple dice mechanic to mimic an RPG experience. The quick-start rules, brisk pacing, and art by New Wavey fantasists like Iain McCraig, Chris Achilleos, and Richard Corben, all bundled in a mass-market paperback retailing for $1.95, made Fighting Fantasy wildly successful. The series ran until 1995, along the way spawning ancillary media like novels, computer games, even a full-blown Fighting Fantasy RPG. Fan enthusiasm still burns bright today, with a downloadable fanzine and its own wiki.
Screw Narnia; had I ever discovered some magic wardrobe, I would have jumped with both feet into Titan. As it was, chores were done and allowances scraped together in anticipation of infrequent family expeditions to the mall bookstore. There I could pay to wade through the mire of the Scorpion Swamp, survive Baron Sukumvit's Deathtrap Dungeon, rally freed slaves to overcome the sinister Gonchong on the Island of the Lizard King. Now I've been playing the books all over again, this time with my young sons, imparting to them the same vital life lessons I learned as a young boy: don't trust strangers; never put your hand in someplace you can't see; and if you kill someone, you might as well go ahead and take his wallet.
A new publisher, Wizard Books, began reprinting the Fighting Fantasy gamebooks in 2002, broke off five years later, then began publishing them again in 2009. This third and latest series starts once more at ground zero with The Warlock of Firetop Mountain but adds new texts that never appeared in the original lineup, including their two most recent releases, Bloodbones and Night of the Necromancer.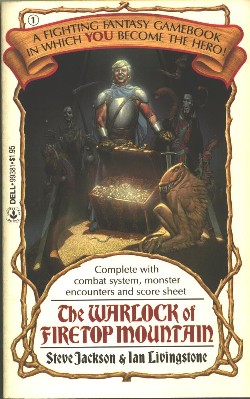 Well, sort of. Bloodbones, a pirate-themed adventure, is known as the "lost" Fighting Fantasy. It was supposed to be number 60 in the Puffin series but they cancelled the line before it could appear, even though the manuscript was complete. For a decade collectors wondered what could have been. It was eventually published in 2006, though that line went kersplat the following year.
Wizard Books aren't sold in the United States, but when I learned Wizard re-released Bloodbones this past April, I snatched a copy from an English seller on Amazon.com. Even with overseas shipping, the total cost was only a little over US$12.
I wish Bloodbones rose to the level of its own legend. The back-story is simple: the titular dread pirate murdered your family and so you have come to the Port of Crabs — a phantasmic Port Royal or Nassau — with vengeance on the brain. But you learn Bloodbones has since been slain and risen from the dead. You know, just like that other guy — Mike D.
The measure of good interactive fiction, just like the regular kind, is how satisfying it is; too much structure leads to predictability but too much coincidence leaves the reader detached from the story. Bloodbones has way too much of the latter. Culling information in the taverns and on the docks leads to unwanted attention, and only through two chance encounters — one in an abandoned lighthouse, the other in a graveyard — are you able to piece together the buccaneers' whereabouts. Once inside their base, your entire destiny hangs upon whether you purchased a seemingly worthless trinket in the city market; without it, you die. If you survive that, you can stow aboard the pirates' ship, but before being discovered and pitched overboard, you better locate the coordinates of their destination. Don't bother checking the obvious place — the captain's cabin — because my five-year-old and I ransacked that room top to bottom.
We gave up after that. While many of Jackson's and Livingstone's gamebooks involved collecting artifacts in order to win, thorough searching of the dungeon du jour usually uncovered them. Items may have been hidden but their hiding places made sense. Without any logic to Bloodbones's quest, there was no satisfaction in unwinding its narrative, particularly for young explorers like my son who solve puzzles by establishing patterns. Were the coordinates written on the flip-side of some doodad back in the marketplace? Who knows.
Author Jonathan Green wrote Bloodbones over 15 years ago. He also penned the brand-spanking-new Night of the Necromancer, and my boys and I are about to discover whether his gamebook-writing ability has improved with age.