Read the first three chapters of The Way of Kings
Read the first three chapters of The Way of Kings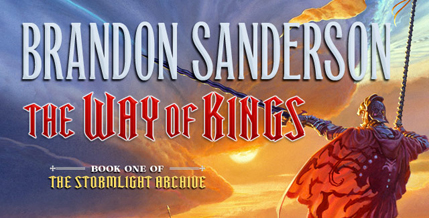 Tor.com has put the first three chapters of Brandon Sanderson's new epic fantasy novel, The Way of Kings, online for free.
Sanderson is the author of Warbreaker, the Mistborn trilogy (Mistborn, The Well of Ascension, and The Hero of Ages), and the book that got him his own publicist, The Gathering Storm, the 12th and final novel in Robert Jordan's Wheel of Time series, written from extensive notes Robert Jordan made before he died.
Charlene Brusso reviewed Warbreaker for the Black Gate blog here, calling Sanderson an "expert at spinning fantasy stories packed with memorable characters, crisply detailed settings, unique magic, and major helpings of intrigue."
The Way of Kings is the first book of The Stormlight Archive series. Set in the world of Roshar, where mighty storms cause trees to pull in branches, grass to retract into the ground, and cities to be built only where there is shelter, the novel follows a large cast of characters, including medical apprentice Kaladin, reduced to slavery in a war that rages on a ruined landscape called the Shattered Plains. 
The Way of Kings will be available August 31st, and weighs in at over 1000 pages. Looks like Sanderson served his apprenticeship under Jordan well.
If you haven't already, you'll need to register at Tor.com to read the 50-page excerpt.  Registration is free and fairly painless.