A new online science fiction magazine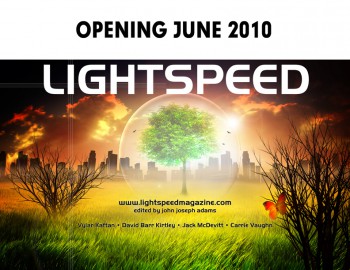 , coming soon to a monitor near you. Looks promising.
2 Comments »
I have a story in the fourth or fifth issue called "The Taste of Starlight." It's a science fiction horror tale that should make plenty of stomachs turn.

John Joseph Adams does high-quality projects and LIGHTSPEED will be no exception. Also, the magazine will be collected into annual print editions for those who don't read online.

Sounds great, John (I think!). I'll look forward to it.

I didn't know about the annual print edition. That's great news for those of us who still do most of our reading in easy chairs.

John
Leave a comment
You must be logged in to post a comment.
Black Gate Home