C.S.E. Cooney reviews Black Gate 14
C.S.E. Cooney reviews Black Gate 14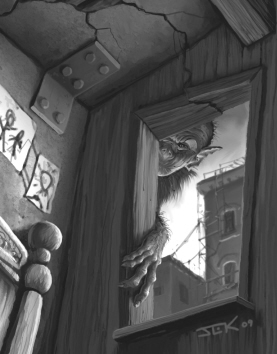 Author C.S.E. Cooney has become the third reviewer to post her thoughts on our latest issue, which she read over several train rides:
It's MASSIVE! It's GLOSSY! It's full of ILLUSTRATIONS! There are THREE POEMS in it!… After chortling my way through John O'Neill's wry romp of an editorial, laughing though the letters, and reading Rich Horton's essay on older fantasy fiction… I finally started on the actual fiction.
She seemed to particularly enjoy "The Hangman's Daughter" by Chris Braak:
HURRAH for the FORMDIABLE girl-child protagonist with her laconic but fiercely interesting dad and the incredible world built around them… This story was, in a word (an old-fashioned hippie word), BITCHIN'.
Dan Brodribb's "The Girl Who Feared Lightning"
My favorite bit in "The Girl Who Feared Lightning" was a short exchange between the protagonist and her boyfriend over the phone. It was very natural and easy, yet loaded with all sorts of things left unsaid. It's always amazing to me how a few sentences of dialogue can define an entire relationship. And then, of course, there were the mummies.
And Robert J. Howe's "The Natural History of Calamity"
Witty and well-plotted. I expended very little effort in reading – the story just swept me along. It took most of two train rides, and I was in a panic lest I'd have to get off the train before I'd FINISHED it. Another author I must GOOGLE. Kick-ass lady protag, too, I must say. And kick-ass without being INDOMITABLE, you know. She gets knocked around her fair share and is not NOBLE about it all the time. I'd like to meet her again. In, like, a novel. Please.
Claire's complete (and highly entertaining) review is here.
Art by John Kaufmann for "The Hangman's Daughter."