Special Fiction Feature: "The Renunciation of the Crimes of Gharad the Undying"
Special Fiction Feature: "The Renunciation of the Crimes of Gharad the Undying"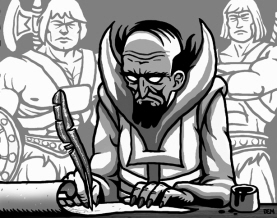 We are proud to present a complete work of fiction from Black Gate 14: Alex Kreis's "The Renunciation of the Crimes of Gharad the Undying."
I am very sorry about seizing the throne of Falland and establishing a dictatorship based on terror and intimidation. As ruler of Falland, I enforced a number of highly unfair and immoral policies for which I now feel very badly, including putting all orphans raised by any forms of wildlife to death, and ordering the execution of all wandering bards (although I must say in my defense that that decision was not entirely unpopular).
You can read the complete story here.
"The Renunciation of the Crimes of Gharad the Undying" appears in Black Gate 14.  Alex lives in Massachusetts; this is his first fiction sale.
Art by Bernie Mireault.