Black Gate 14 Sneak Peek, Part II: "Dark of the Year" by Diana Sherman
Black Gate 14 Sneak Peek, Part II: "Dark of the Year" by Diana Sherman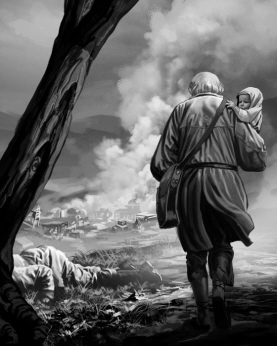 We kick off Part II of the Black Gate 14 Sneak Peek with an excerpt from the issue's lead story, Diana Sherman's "Dark of the Year."
"Dark of the Year" is the tale of a man wandering through a landscape ravaged by sorcerous war, desperately searching for a dying man or war-mage who can read his granddaughter's true name, in the last few days before the Shadows come… before the Dark of the Year.
Diana Sherman has been published in Talebones and Polyphony, and a has sold a play to The Exquisite Corpuscle anthology from Fairwood Press.
Art by Mark Evans.
You can read the excerpt here.
Matai's grandaughter doesn't have a name, and soon, she will be susceptible to the Shadows when moondark comes.  Less than a fortnight distant, when the year turns on the longest night.  The Shadows and their darklings will come creeping through towns and cities, calling for children to come.  Most will be safe, their ears cottoned against those whispers by the knowledge of their own true names. 

But the orphans with no womb names, they'll be gone of a morning.  No sight nor sound of their passing.  But someday, some other dark night, you might spy a lost child creeping through the village, a darkling servant now, whispering and beckoning.  You know them by their black lips, burnt by the Shadow that stole the souls out of their mouths.  That, and their angry eyes.
The complete version of "Dark of the Year" appears in Black Gate 14, on sale in February.
Stay tuned over the next few weeks, as we post excerpts from each of the stories coming in BG 14.