Short Fiction Beat: Become a Citizen
Short Fiction Beat: Become a Citizen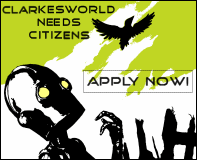 I just stumbled upon this spin on a subscription plan to support Clarkesworld Magazine, which has been providing its content online for the past three years. For a $10 or more donation, you can become a citizen; although the privileges of citizenship are still being defined, the folks at Clarkesworld suggest it might include discounts on their print publications, as well as the satisfaction of supporting an endeavor that publishes authors such as, in the current January issue, Peter Watts and Megan Arkenberg. Clarkesworld hopes to naturalize 400 citizens out of the 10,000 or so it counts as regular readers to reach its financial goals.
On another note, Torque Control has published the 2009 BSFA (British Science Fiction Association) Awards shortlist. The nominees for short fiction are:
"Sinner, Baker, Fabulist, Priest; Red Mask, Black Mask, Gentleman, Beast" by Eugie Foster (Interzone 220)
The Push by Dave Hutchinson (Newcon Press)
"Johnnie and Emmie-Lou Get Married" by Kim Lakin-Smith (Interzone 222)
"Vishnu at the Cat Circus" by Ian McDonald (in Cyberabad Days, Gollancz)
"The Beloved Time of Their Lives" [pdf link] by Ian Watson and Roberto Quaglia (in The Beloved of My Beloved, Newcon Press)
"The Assistant" by Ian Whates (in The Solaris Book of New Science Fiction 3, ed. George Mann)
Once again, I'm reminded of how out of the loop I am: I've only read two of these.