Spectrum 16: Now Fortified with Black Gate!
Spectrum 16: Now Fortified with Black Gate!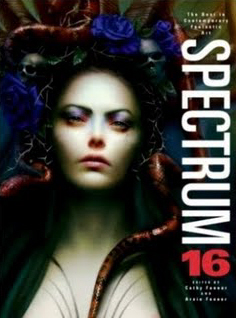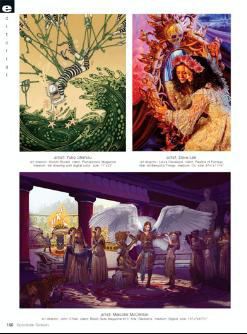 Spectrum 16, edited by Cathy and Arnie Fenner, was published this month by Underwood Books.
I've been a fan of these books since the first, way back in 1994.  There are a lot of Best of… anthologies gathering the most acclaimed short fiction each year but, until Arnie and Cathy thought of it, no anthologies collecting the finest art. It was a stroke of genius, and that first volume was a hit. They've been at it ever since.
The books are full color and include lush layouts covering Advertising, Books, Comics, Concept Art, Sculpture, Editorial, Institutional, Unpublished — and even a lengthy Year in Review.  Spectrum 16 weighs in at 264 pages, and is just $39.95 for the hardcover (I bought mine for $26.37 from  Amazon.com). This year the Grand Master is Richard Corben.
Browsing these books is marvelous. Top-notch science fiction and fantasy often sets my imagination soaring, but not in the way that really great artwork can. The editors collect an astonishing array of diverse images from hundreds of gifted artists — pictures that are humorous, baffling, erotic, beautiful, disturbing, breath-taking, and everything in between. Depending on what your imagination is like, these books can be more diverting than a Stephen King novel.
This year is a special treat because the editors have seen fit to include Malcolm McClinton's cover to Black Gate 13  in the Editorial section — in all its wrap-around glory. "Gladiatrix" was Malcolm's first cover for Black Gate, and the first wrap-around image we've published since BG 3. It's a knockout piece, and the response from readers was universally positive.
It's a proud moment for us.  I'd like to congratulate Malcolm for being included — and also for a fabulous cover.