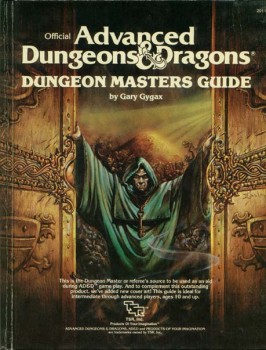 A recent entry over at Joe Abercrombie's blog about his encounter with a neighbor boy who hadn't even heard of D&D got me reflecting on many of the things Abercrombie himself covers in his post. He and I are about the same age, and belong to a pre-internet, pre-500 cable channels, pre-iPhone generation that entertained ourselves around the wood stoves of our drafty log cabins with shadow puppets and recitations of railway time tables. But something happened to transform our sepia-toned youth into an exciting time of monster-slaying, dungeon-crawling, infinite gold-carrying, NPC-bullying, and rules-lawyring adventure — and that something was Dungeons & Dragons.
Of course, let's get something straight, there was Dungeons & Dragons, and there was Advanced Dungeons & Dragons, and my activities were limited solely to the later. And, hey, I was a snob about it. I mean, in D&D elves and dwarves were considered a class? All the cool kids where into AD&D — though for the purposes of this entry, and since the distinction no longer has any meaning, anyway, I'll just lump them both together as D&D.
I say 'cool kids,' but that wasn't the case. Cool kids played flag football in their spare time, rebuilt carburetors, and rode their Schwinns to rendezvous with married women in their thirties whose husbands were out of town. Actually, I have no idea what the cool kids did, preferring as I did the company of dorks, misfits, and other geekly types such as myself, and I suppose if I ever imagined what they were up to it would veer widely between the poles of pathetically banal and enviably adult. Me, I drew dungeons on graph paper.
---