Robie the "Reboots" we don't need…
Robie the "Reboots" we don't need…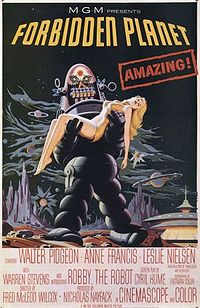 Given all the discussion of late about reboots, I wonder why no one has ever thought to revisit this classic.  Forbidden Planet was my Star Wars when I was in fifth grade. In the New York metro area, Channel 9 had a  feature called "Million Dollar Movie" that used to play a particular movie ever day throughout the week in the early evening.  Forbidden Planet was a regular staple, and whenever it was in rotation, I was there in front of the TV (which, to give you an idea of how old I am, displayed only black and white).
One of the things that was particularly cool about this flick  is that it opened up a window to the nomenclature of Freudian repression and Shakespeare, all dressed up in space adventure.  My guess is that a reboot would probably ruin it; for every Star Trek or Batman there's A War of the Worlds starring Tom Cruise…
I'm not saying I want to see a remake, but given the limited imagination of much commercial filmdom, I wonder why no has considered it.